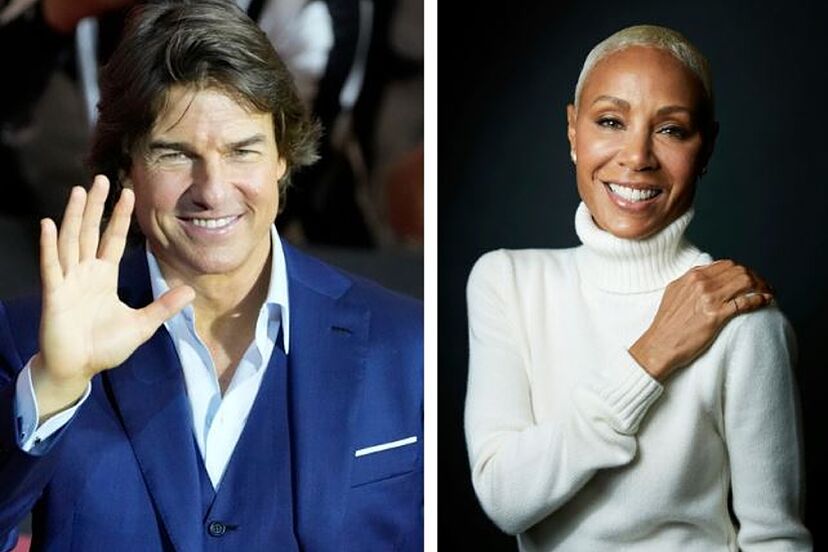 Tom Cruise is reportedly on a quest for a new leading lady in his life, and who better to fit the bill than the one and only Jada Pinkett Smith, or so the grapevine claims!
According to an insider who spilled the beans to the National Enquirer, Jada couldn't help but gush about Tom in her explosive memoir, "Worthy." She apparently described Tom Cruise as not just a genius, but also one of the finest specimens of eye candy she's ever laid her peepers on. Talk about setting the bar high, Jada!
But here's the twist – they've always had this incredibly strong bond, like two peas in a pod, but the stars just never seemed to align for them romantically. Well, until now! You see, with the news of Jada and Will Smith's split plastered all over the tabloids, Tom's radar is beeping louder than ever.
According to the insider, Jada's memoir spilled the beans that it was Tom who encouraged her to confront her fears, not her estranged husband Will. Move over, Will Smith; it's Tom Cruise to the rescue!
Now, here's where it gets even more interesting. Jada, who first crossed paths with Tom in the 2004 movie "Collateral," happens to be a fan of Scientology. She even fondly remembered homeschooling her kids with Scientology's Basic Study Manual. So, it's like a match made in thetanic heaven for Tom, who's famously linked to the Church of Scientology.
The insider couldn't resist spilling the beans further, saying, "Surprisingly single Tom needs to find someone who's supportive of his religion and not intimidated by his success — and Jada totally fits the bill." Well, there you have it; the bill has been officially fitted.
Tom and Jada share more than just a penchant for thrilling religious ideologies. They're both bona fide adrenaline junkies. Fast cars, motorcycles, and even skydiving? They're in the same adrenaline-packed club. If that doesn't scream "meant to be," what does?
As if that weren't enough, Tom is one of the few who truly gets what it's like to live life under the blazing spotlight of fame. He understands Jada's unique struggles and aspirations. Maybe it's that mutual understanding that's been missing from both their lives all along.
Tom Cruise and Jada Pinkett Smith – could this be Hollywood's next dynamic duo? Stay tuned, because this love story seems to be just getting started, and we can't wait to see what unexpected twists and turns the Hollywood rollercoaster has in store for them!