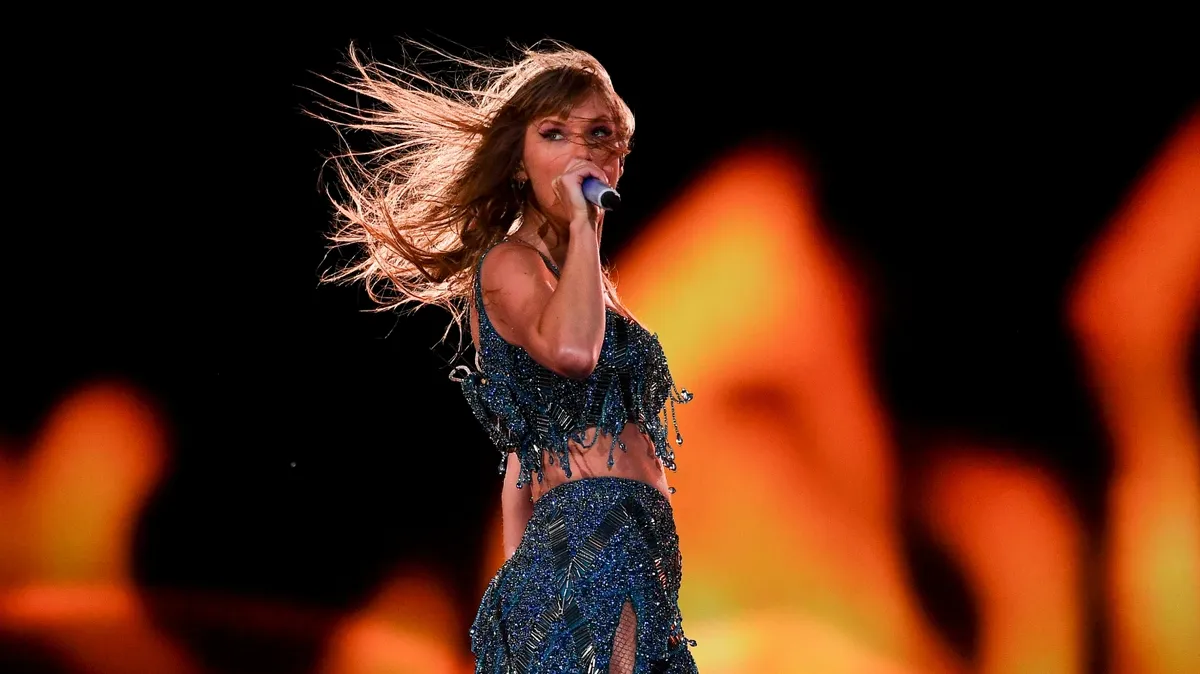 We've got some front-row tickets to the latest episode of "Taylor Swift's Tour Adventures: Episode Eras Tour in Buenos Aires!" Picture this: Taylor Swift, the iconic Grammy Award-winning superstar, was doing her thing on stage when someone in the audience decided it was the perfect moment to launch a surprise party favor in her direction. But don't worry, Taylor had a response that was classier than sipping tea with the Queen!
In the midst of playing the Evermore act on her piano, a fan thought, "Hey, what's a concert without a little projectile action?" Well, Taylor, in all her glory, had to address the situation. She looked at the crowd with her best "I can't even" expression and said, "Just because communication means having gentle, healthy boundaries, it really freaks me out when stuff gets thrown on the stage. Because if it's on the stage, then a dancer can trip on it." We've all been there, right? Those darn hazards cluttering up the stage, just waiting to trip the unsuspecting backup dancer!
With a touch of humor and a whole lot of grace, Taylor continued, "I love that you bought presents and that is so nice, but just, can you please not throw them on the stage. I love you so much." And just like that, the show went on, and the incident was never to be seen again. Bravo, Taylor, for keeping the concert rolling smoothly!
But Taylor is not alone in her battle against flying objects at concerts. Let's not forget Bebe Rexha, who once experienced an unexpected eye exam when a daring fan chucked their cell phone at her during a New York City concert. Talk about high-stakes selfies! And who could overlook the moment Kelsea Ballerini made a swift exit stage left after a fan tossed a bracelet her way? The fashion police are on high alert at concerts, apparently.
The grand prize for creativity, though, goes to the fan who decided to send a bag of their mother's ashes sailing through the air at P!nk during the British Summertime Festival. Yes, you read that right. Who knew concert venues could become a memorial service?
And when it comes to stars defending their turf, we've had Adele and Nick Jonas playing the "Please Don't Throw Things at Us" card while they were in the spotlight. A little public service announcement can go a long way, folks.
In a surprising turn of events, Taylor also made headlines during her Buenos Aires show for sharing a smooch with her new beau, Travis Kelce, as she exited the stage. It seems love is in the air, or at least on the stage, in Taylor's world. She even changed the lyrics to her song "Karma" to give Travis a shout-out instead of her ex, Joe Alwyn. "Karma is the guy on the Chiefs coming straight home to me," she sang, causing the crowd to go wild. Travis, who was watching next to Taylor's dad, probably thought he'd wandered into a real-life rom-com.
Before Travis, Taylor had a whirlwind romance with The 1975's Matty Healy earlier in the year. So, as we can see, Taylor's love life is as eventful as her concerts! Stay tuned for the next thrilling episode of Taylor Swift's Tour Adventures, coming soon to a stage near you!
🏟️| Taylor very kindly asking the crowd to not to throw things on stage 🫶 #BuenosAiresTSTheErasTour

"And just because communication means having gentle healthy boundaries – it really freaks me out when stuff gets thrown on the stage. Because if it's on the stage then a dancer… pic.twitter.com/ZIY5Vxzajw

— Taylor Swift Updates 🩵 (@swifferupdates) November 13, 2023