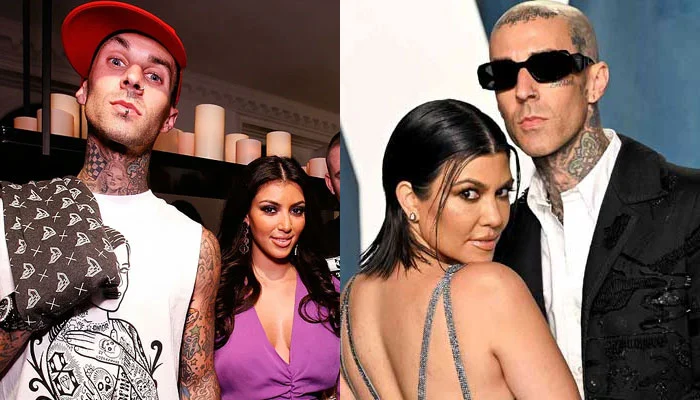 The Kardashian-Jenner clan is about as thrilled with Kourtney Kardashian's husband Travis Barker as a cat at a dog show. According to an anonymous source with the inside scoop, the reality TV family is convinced that the Blink-182 drummer has somehow managed to create a Travis-proof force field around the "Lemme" mogul, keeping her away from the rest of the gang.
During those unavoidable family gatherings, they have no choice but to grin and bear it, but let's just say they'd prefer not to have a Barker on the guest list. They're not exactly doing cartwheels over the fact that Kourtney seems to be moonwalking away from her mom and sisters to create her own circus with Barker.
The insider spilled the beans, and it turns out that while some of the family members are biting their tongues more than others, they're all on the same page when it comes to Kourtney's transformation since hooking up with Travis. They're convinced she's undergone a "Barker-ectomy," and they're not loving the results.
Kim, in particular, is serving up a cocktail of mixed emotions with a side of salty fries. She and the Poosh mogul have a relationship that's as complicated as a Rubik's Cube, and she's convinced that Travis is the mastermind behind the grand scheme to alienate Kourtney from the family. According to our mysterious source, she thinks he's slowly but surely turning Kourtney into an anti-Kardashian crusader.
"It's like Kourt has been spending more time in Barkerland and less time in Sisterland," the source quipped. "She's become a full-on Barker believer, and it's hard for the family to keep up with all the new 'Barker-isms' she's picked up."
And just when you thought the rollercoaster of Kardashian drama couldn't get any loopier, there are rumors swirling around that Kourtney might be saying goodbye to their beloved reality TV show, "The Kardashians," for good. Why? Well, she's got a bun in the oven, and it seems she's not interested in sharing her pregnancy cravings and baby bump updates with the world. After all, she's too busy rockin' and rollin' with Barker.