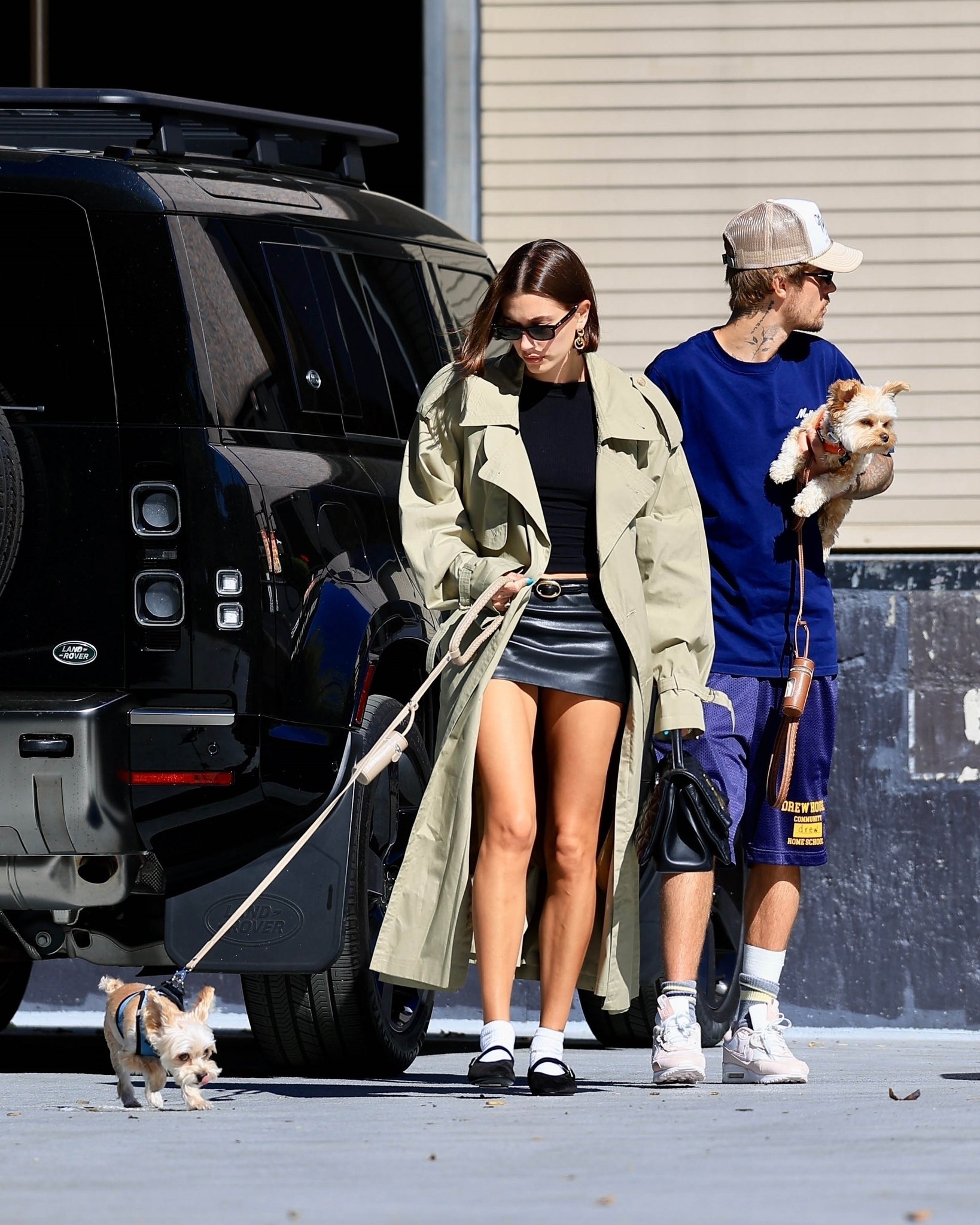 The Biebers are having a chow-down extravaganza!
Justin and Hailey Bieber decided it was high time to grace a nearby eatery with their presence, and they didn't come alone. Nope, they brought their adorable fur-babies Oscar and Piggy Lou along for the culinary adventure. Who wouldn't want to dine with a side of puppy cuteness, right?
On this fine Sunday afternoon (October 29), the Biebs casually sauntered into a West Hollywood, Calif. restaurant like it was just another day in their superstar lives. Justin, a youthful 29-year-old, sported a snazzy ensemble consisting of a blue T-shirt paired with basketball shorts that were also blue – because, apparently, he's a firm believer in the "monochromatic menu" both in fashion and food choices.
Meanwhile, his lovely better half, Hailey, a glamorous 26-year-old, decided to grace the world with a fashion statement as well. She chose to wear a trench coat, because, you know, it's absolutely trench coat weather in sunny California. She completed the look with a black top and a leather miniskirt that probably screamed "I'm here to eat and slay."
Just the night before, these two fashion-forward powerhouses decided to take a detour to the Vas J. Morgan and Michael Braun's Halloween Party with BoobyTape. And what better way to show up at a Halloween party than dressed as the one and only Fred and Pebbles Flintstone? Yabba-dabba-doo, indeed!
It seems the Biebers are turning everyday outings into runway shows and parties into legendary costume affairs. We can't wait to see what's next in their wacky world of celebrity shenanigans!