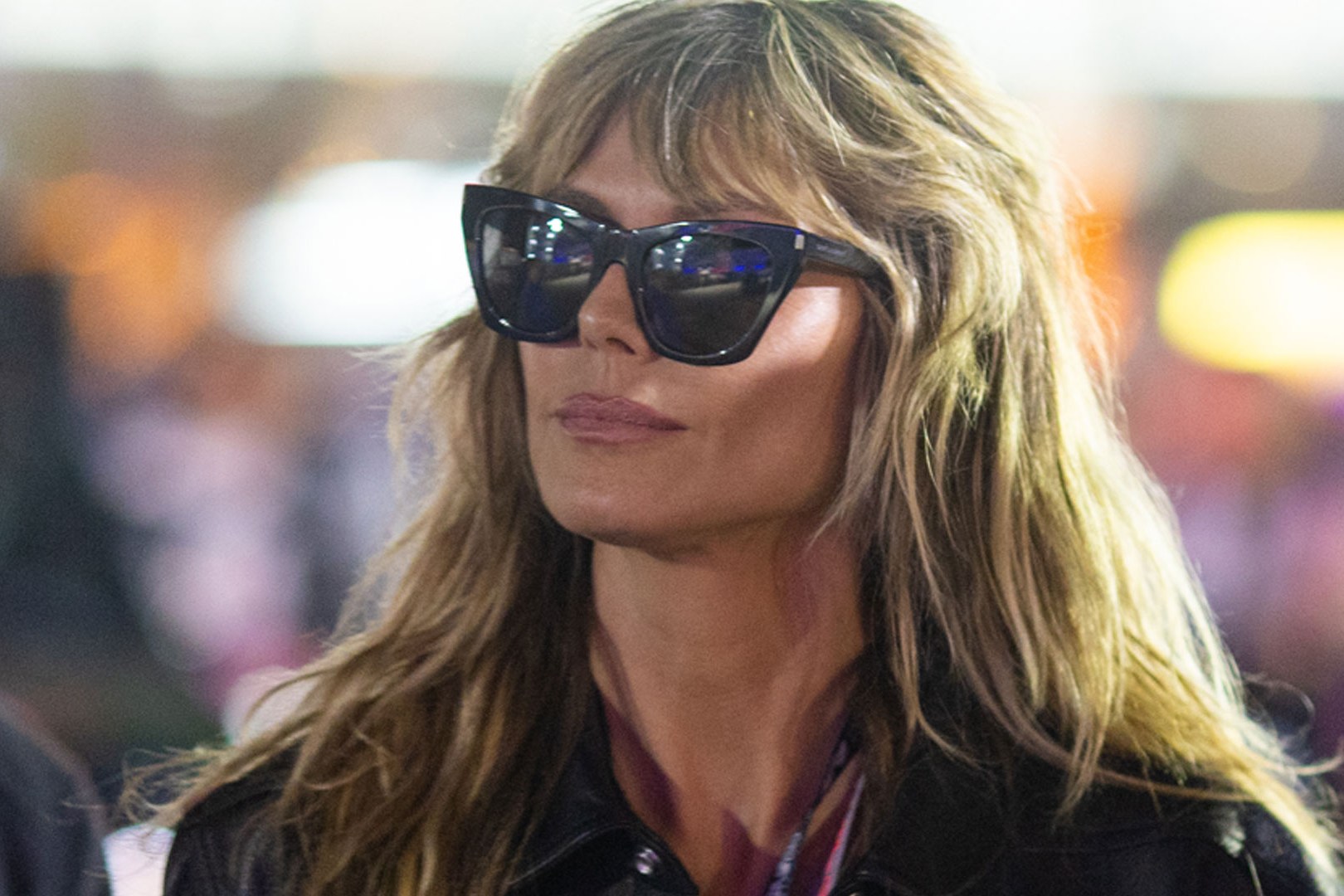 Heidi Klum, ageless wonder at 50, didn't just attend the Las Vegas Formula One Grand Prix—she basically turned it into her own fabulous fashion show. Picture this: a topless Heidi, rocking a black leather jacket like it's the latest trend straight from the runway. And who's by her side? None other than her hubby, Tom Kaulitz, looking sharp and trying his best to keep up with her fashion game at the exciting event.
Below that jaw-dropping jacket, Heidi sported black bottoms and thigh-high boots that could probably be seen from space. Fishnet tights? Oh yes, she threw those into the mix too. The Instagram photo she shared is basically a lesson in how to break the internet with style.
With her long hair flowing and sunglasses chilling on her head like they've got VIP access, Heidi snapped a pic with her phone, capturing the essence of "I woke up like this, but make it fashion." Her makeup? Effortlessly natural. And let's not forget those long red nails, because even in the fast-paced world of Formula One, a girl's got to have her glam priorities.
Tom, the lucky man trying to keep up with this fashion tornado, played along in a black sweater and pants, looking like he just stumbled into a high-stakes poker game he wasn't prepared for.
Heidi didn't stop at the photo, though. Oh no, she blessed us with video clips too. Posing with other race enthusiasts, flashing million-dollar smiles on an outdoor bridge while casually clutching her purse—because even speed demons need their essentials. And let's not overlook the clip of cars zooming by as she chilled in her seat. "F1 LAS VEGAS," she captioned one post, as if we needed a reminder that she just made the Grand Prix her own personal runway.
This isn't Heidi's first rodeo in the spotlight, of course. Just two weeks ago, she threw an epic Halloween party where she transformed into a wild peacock. Not to be outdone, her celebrity pals joined the costume parade, with Camila Cabello channeling Mia from The Princess Diaries, H.E.R. embracing her inner NASA astronaut, and even Coco Austin and Ice T showing up as gangsters. Oh, and did we mention Tom made headlines as a peacock egg? Because that happened.
When Heidi's not turning heads with her jaw-dropping looks, her 19-year-old daughter, Leni, is right there with her. Leni rocked a sexy Strawberry Shortcake costume at mom's Halloween bash, and they've even teamed up for some mother-daughter modeling gigs. Just a month ago, they slayed at the Bode-Museum in Berlin, Germany, for an Intimissimi dinner event. Leni opted for a sheer black sleeveless dress, while Heidi went for a pink number. Because why settle for ordinary when you can be extraordinary? The mother-daughter duo struck poses, celebrating their recent Intimissimi lingerie campaign like the fashion royalty they are. Grand Prix, Halloween, or a lingerie dinner—Heidi Klum knows how to make every event a spectacle, and we're just here for the fabulous ride! 🏎️💃✨