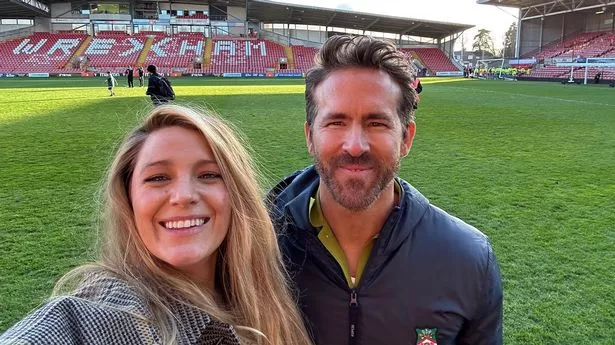 Can we just take a moment to appreciate the delightful duo that is Blake Lively and Ryan Reynolds? These two are like the chocolate and peanut butter of the celebrity world – a perfect match!
So, on a glorious Sunday (November 12), the ageless 47-year-old Ryan, who seems to have made a deal with the fountain of youth, decided to grace our Instagram feeds with a post that had us all in stitches. He wanted to give a big shoutout to his fitness guru, Don Saladino, for sculpting his body into a shape that's ready to "shove itself into Deadpool's big red body condom again." I mean, who else can make spandex sound so oddly appealing?
And, oh boy, did Ryan share some photos of himself flexing those muscles! He's so ripped that I think even the Hulk would be a tad jealous. But, wait for it, there's a hidden gem in one of those pics – a glimpse of the 36-year-old Blake, capturing the moments. It's like a Where's Waldo for Hollywood couples!
But worry not, dear friends, for Blake wasn't about to let her photographic talents go unnoticed. She took to her Instagram Story and wrote, "Find yourself a better Instagram boyfriend than me…I'll wait." Then she blessed us with close-ups of herself in action.
Blake, my dear, you're absolutely right! Capturing thirst-inducing shots of your fine, fine husband is not just photography; it's a genuine public service. We salute you for your dedication to humanity's visual pleasures!
Now, the cherry on top of this comedic sundae is the fact that Ryan is gearing up for Deadpool 3, and it's got a fresh release date. He's set to star alongside Hugh Jackman, and with those two on board, we're in for a superhero comedy extravaganza! But seriously, how can we concentrate on the movie when we're still chuckling at this adorable couple's antics? Kudos to you, Blake and Ryan, for keeping us entertained both on and off the screen!