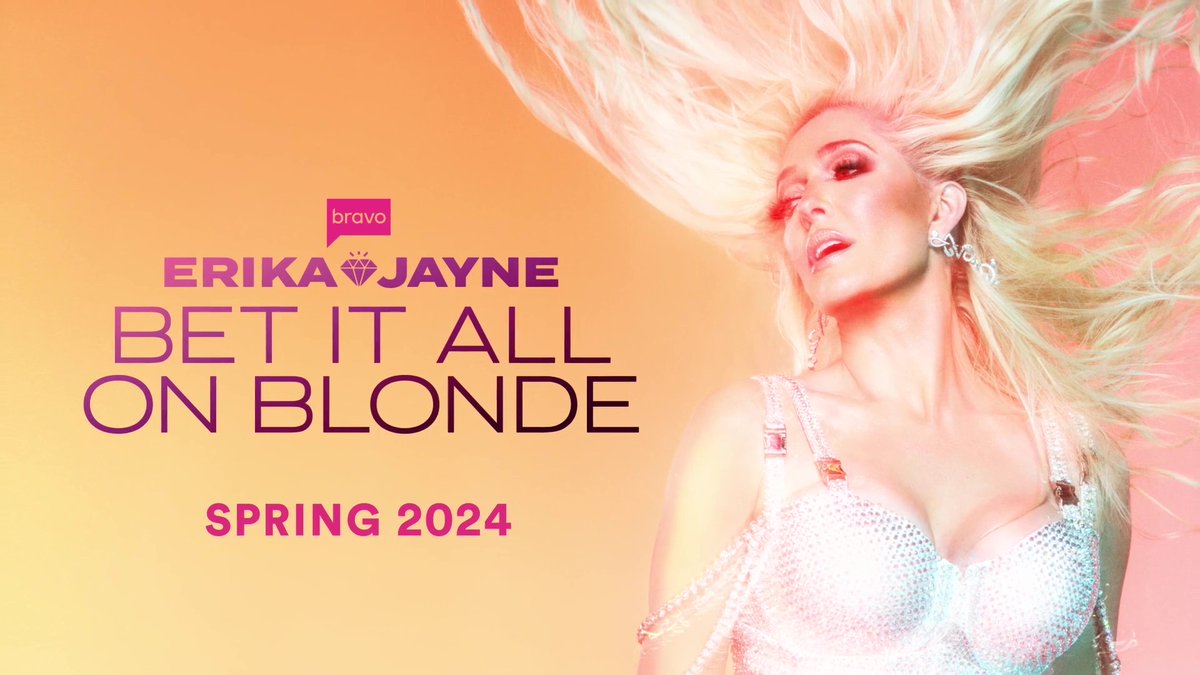 Erika Jayne is about to take over the small screen, and we're not talking about a sitcom with a sassy talking dog. No, Bravo, in all its wisdom, announced at the 2023 BravoCon in Las Vegas (because where else would they make such momentous decisions, right?) that Erika is getting her very own show. Hold onto your fabulous wigs!
This isn't just any show; it's a documentary series! Picture a camera crew following the iconic 52-year-old Real Housewives of Beverly Hills star as she embarks on a journey to prepare for her Las Vegas music residency, which she's oh-so-creatively named "Erika Jayne: Bet It All on Blonde." Because who needs to bet it all on black when you can have a little more fun with blonde, right?
Now, if you're thinking, "When can I start binging this masterpiece of television?" Well, you'll have to hold your horses (or should we say, stilettos) until the second quarter of 2024. Patience, dear viewer, patience!
According to Variety, this documentary isn't just about Erika's fabulous performances and wardrobe changes. No, no, it's going to be a rollercoaster of emotions, combining juicy interviews and behind-the-scenes footage. You'll get to see Erika as she tackles her most ambitious stage endeavor yet, all while dealing with the delightful fallout from her marriage implosion and some pesky civil lawsuits. And if that weren't enough drama for one gal, there are also new criminal accusations swirling around her once-venerated husband, Tom Girardi. Move over, Law & Order; this is the real courtroom drama!
In a teaser trailer that's almost as dramatic as the show itself, Erika is seen grappling with budget issues. Yes, even the glamorous Erika Jayne has to deal with finances. We're shocked too! But don't worry; the trailer also features her former creative director, Mikey Minden. Because what's a diva without her creative director, right? We'd be lost without him.
And let's not forget that Erika's music residency, "Bet It All on Blonde," was announced back in April. This fabulous extravaganza is being hosted at the House of Blues in Las Vegas, so you know it's going to be a real party. Performances kicked off on August 2, and they'll keep you entertained over five weekends until December 2. It's like a never-ending party!
So, get ready to join Erika Jayne on her wild ride, where she bets it all on blonde and takes us along for the fabulous, scandalous, and budget-conscious journey of a lifetime. Grab your popcorn, your glitziest outfit, and prepare to be thoroughly entertained! Las Vegas, here we come! 🎉💃🍾
🚨 Breaking from #BravoCon 🚨 Are you ready to #BetItAllOnBlonde? Get an exclusive look into Erika Jayne's journey to the Vegas stage this spring! pic.twitter.com/EDRe15gezN

— Bravo (@BravoTV) November 5, 2023