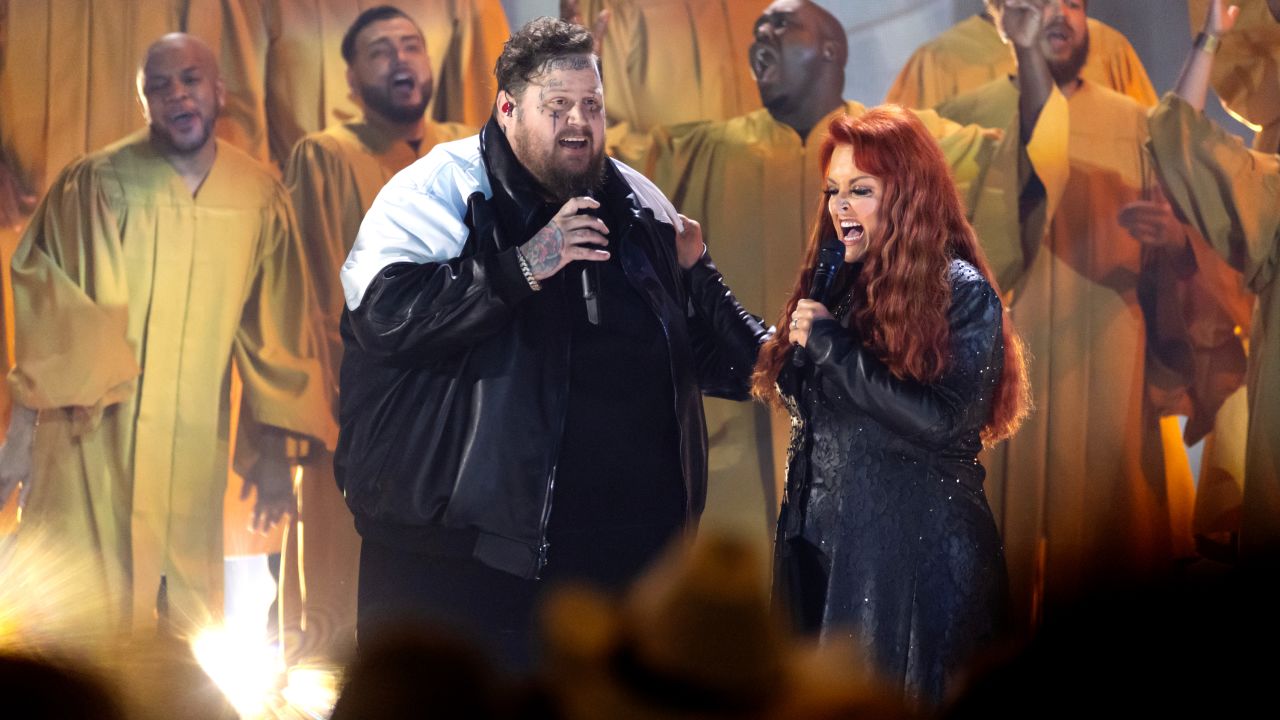 The CMA Awards took an unexpected turn when Wynonna Judd hit the stage, and it wasn't just her singing that had people talking—it was her seemingly gravity-defying dance moves.
Wynonna, the country sensation at a sprightly 59, joined forces with the rising star Jelly Roll for a duet that left fans scratching their heads. Some even questioned if they accidentally stumbled upon a secret audition for the next season of "Dancing with the Stars."
As the duo belted out "Need a Favor," Wynonna's grip on Jelly Roll was tighter than my grandma's hug at a family reunion. Fans couldn't decide if it was a performance or a covert rescue mission, with one person suggesting, "She's holding on like she's about to pull him into another dimension. Is this a country music concert or a sci-fi thriller?"
Concerned citizens flooded social media, expressing worries about Wynonna's well-being. One fan pleaded, "She's been through so much. Someone toss her a life jacket—preferably bedazzled to match her outfit." Another chimed in, "Is Wynonna auditioning for a role in the next X-Men movie? Because that grip is superhero-level."
But the mystery deepens. Could it be a recurrence of Wynonna's notorious battle with vertigo? One fan speculated, "She's either doing a new dance move called the 'Vertigo Waltz' or trying to reenact a gripping scene from 'Inception.'"
Earlier in the evening, Wynonna was all smiles on the red carpet, fooling everyone into thinking she had the secret to eternal happiness. Little did they know, her backstage mantra might've been, "Hold on to Jelly Roll like your life depends on it."
As the rumor mill churns, Page Six bravely reached out to Wynonna's reps for comment. Will they spill the beans, or are they too busy perfecting their own rendition of the "Need a Favor" grip routine?
In April, Wynonna paid tribute to her late mother at the CMT Awards, delivering an emotional performance that had even stoic statues shedding a tear. In a moment reminiscent of talking to ghosts, she pointed to the sky and declared, "Mama, you need to be here. I miss you, and I love you. Also, could you send down a ladder? Because I seem to be stuck to Jelly Roll."
Life, it seems, is a rollercoaster for Wynonna, with anniversaries of heartbreak coinciding with baby milestones. It's a mix of agony and ecstasy that would make even Shakespeare say, "Dude, that's a lot."
So, stay tuned. The mystery of Wynonna's otherworldly performance might just be the plot twist of the year. In the meantime, let's all practice our grip strength—just in case we get invited to the next CMA Awards.