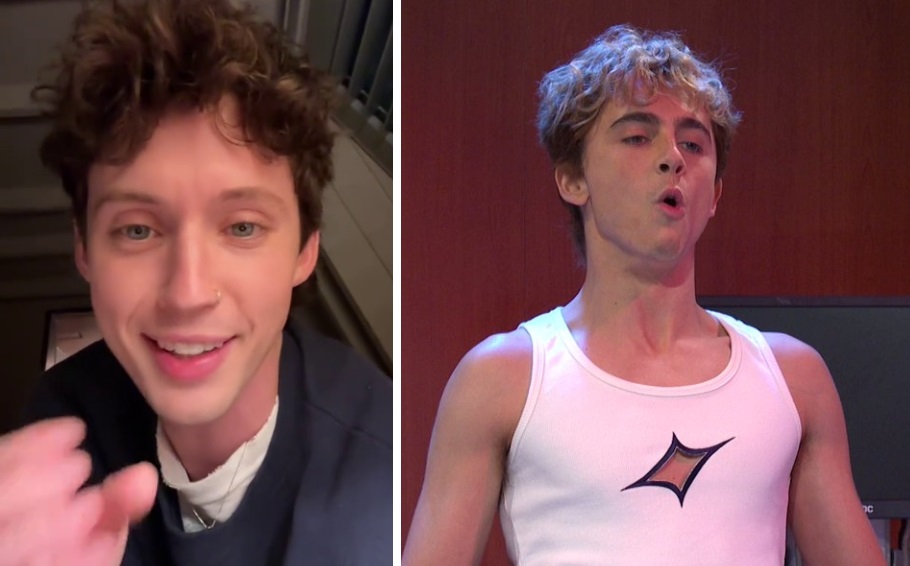 Timothee Chalamet has unleashed his inner impersonation maestro, and it's a show you won't want to miss!
Picture this: Saturday Night Live, November 11th, and there's Timothee, the 27-year-old wizard of Willy Wonka fame, strutting his stuff in a skit that had jaws dropping. What's the catch? He's channeling none other than Troye Sivan, the 28-year-old crooner of "Rush" fame.
In this giggle-inducing skit, Timothee took on the role of Troye as a sleep paralysis demon twink. He even nailed the choreography from Troye's "Got Me Started" music video, complete with the moment where he twirls, drops his trousers, and flaunts his cherry-red undies.
The best part? Troye himself had a front-row seat to this hilarious spectacle, and his reaction was nothing short of comedy gold. Taking to Instagram, he couldn't help but exclaim, "WHY IS LIFE SO WEIRDDDDD RN LMAO IM DEAD" while sharing a clip from the sketch.
And on his Instagram Story, Troye shared a snapshot of him and his buddies glued to the skit, captioning it with a simple, "Pure shock." It's safe to say that this unexpected twist had Troye in stitches!
Timothee Chalamet tickled our funny bones with his take on Troye Sivan, leaving us all in stitches. Life's weird, but moments like these make it a whole lot funnier! 😂