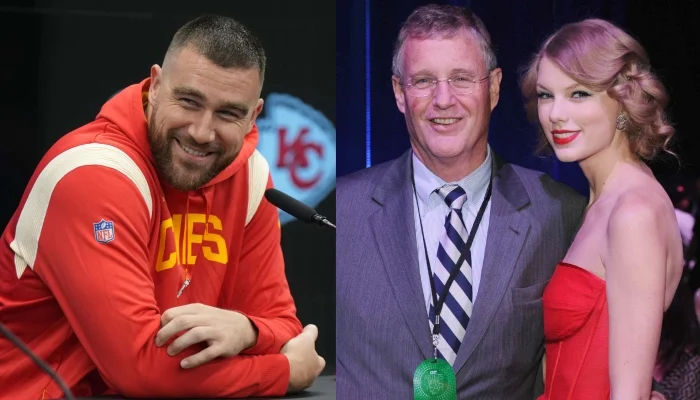 Travis Kelce spills the beans with a side of hilarity on Taylor Swift's cheeky "Karma" lyric remix!
In the latest episode of the New Heights podcast, the 34-year-old Kansas City Chiefs tight end, joined by his brother Jason Kelce, spilled the beans after grooving at his girlfriend's Eras Tour in Buenos Aires. Taylor, in her lyrical wisdom, transformed "Karma" into a touchdown by dubbing Travis as "The Guy on the Chiefs."
"So, how's it feel to officially be The Guy on the Chiefs?" Jason inquired, prompting Travis to unleash a hearty laugh.
"Ha! You mean karma? I had no clue. Well, maybe a teensy bit of a clue. But when I heard it roll off her tongue, I was like, 'Oh… she really just said that, alright,'" Travis confessed.
Jason teased him about leaving Taylor's dad, Scott Swift, hanging for a high five during the revelation. "Mr. Swift, I apologize, big guy. I never miss a high five. Big high five guy. It's the most electric thing you can do at an event," Travis explained, ensuring everyone knows he's not one to snub a high-five opportunity.
Pointing out that Taylor's dad sported a Chiefs lanyard, Travis proudly declared, "Got him over to the good side, baby. One by one, getting all the good ones to come over."
"I might have persuaded him at dinner the night before when I met him," he cheekily added. "Maybe, who knows. He's a huge football guy!"
And the Eras Tour? Travis couldn't stop gushing. "The show was even more electric knowing that I had a little more to enjoy it for. Taylor absolutely ripped it. She killed it," he exclaimed, insisting that Jason needs to experience the concert magic himself.
"It'll absolutely blow you away." Well, blow us away, Travis – not just with your touchdowns, but with your high-fives and dinner persuasion skills too!
@newheightshow

Anyone do anything fun last weekend? 😂 New episode with The Sexiest Man Alive and The Guy on the Chiefs out NOW