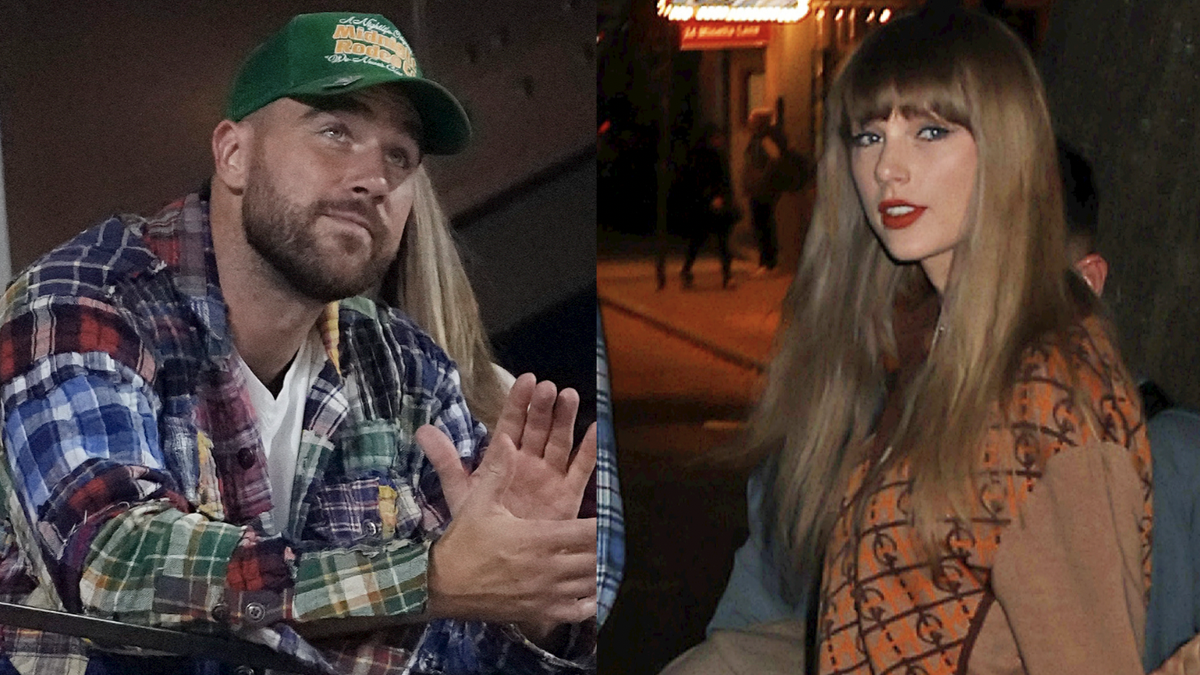 Travis Kelce made his grand debut as Taylor Swift's official beau at her Eras Tour shindig, and boy, oh boy, did it dish out some unforgettable hilarity!
Our 34-year-old gridiron star donned his cheerleader cap as he rooted for his 33-year-old pop sensation sweetheart at the Estadio River Plate on a Saturday night in Buenos Aires, Argentina. The crowd went wild!
All throughout the concert, eagle-eyed fans couldn't help but notice the cutesy gestures that Taylor shot in Travis's direction. She even went so far as to modify the lyrics of one of her songs to give the footballer a cheeky nod.
The A-list duo, fresh off their viral debut, had a little encore moment that had everyone chuckling. Let's dive into the highlights of their first performance together, shall we?
Travis took a seat alongside the 'rents and Sabrina Carpenter…
In a move that would make even the most experienced third-wheelers proud, Travis nabbed a spot right next to Taylor Swift's dad, Scott, and her tour buddy, Sabrina Carpenter. It was a party of three in the VIP section!
Taylor rewrote the script for her song "Karma"
While belting out her hit "Karma," Taylor couldn't resist the temptation to give a shoutout to Travis. She sang, "Karma is the guy on the Chiefs, coming straight home to me." And in case you've been living under a rock, that's a nod to his gig with the Kansas City Chiefs.
Taylor played the ultimate game of "Where's Waldo" during "Willow"
During her performance of "Willow," eagle-eyed fans could've sworn that Taylor was playing a game of "Where's Travis?" She pointed to the man himself while serenading the crowd with the words, "That's my man." Talk about a master of subtlety!
Taylor blew Travis a kiss during "Cardigan"
In the midst of singing "Cardigan," one lucky fan caught the moment when Taylor seemingly blew a smooch in Travis's direction. You know it's true love when you get an air kiss at a stadium gig!
"End Game" made a surprise appearance
Taylor whipped out three surprise songs during the concert, and one of them was "End Game." Rumor has it that some folks interpreted this lovey-dovey anthem as a shoutout to Travis, who was happily in the audience.
The fanbase went bonkers, with one ecstatic supporter gushing, "There's just something about Taylor Alison Swift belting out 'End Game' in a packed stadium with Travis freakin' Kelce in the house that's got me rolling on the floor, weeping tears of joy. I'm practically tap dancing! #BuenosAiresTSTheErasTour, you win!" Way to kick up the excitement, Swifties!
Taylor went in for a Travis-tastic smooch post-show
To wrap up the night of epic hilarity, Taylor Swift couldn't contain her excitement and rushed over to Travis for a big bear hug and a smooch on the side of the stage. The lovebirds strolled off arm in arm, leaving us all in stitches and brimming with warm fuzzies. Ah, young love – it's a heck of a spectacle!
📹| @taylorswift13 & @tkelce after tonight's show! #BuenosAiresTSTheErasTour pic.twitter.com/SAAEja9eV6

— Taylor Swift Updates 🩵 (@swifferupdates) November 12, 2023