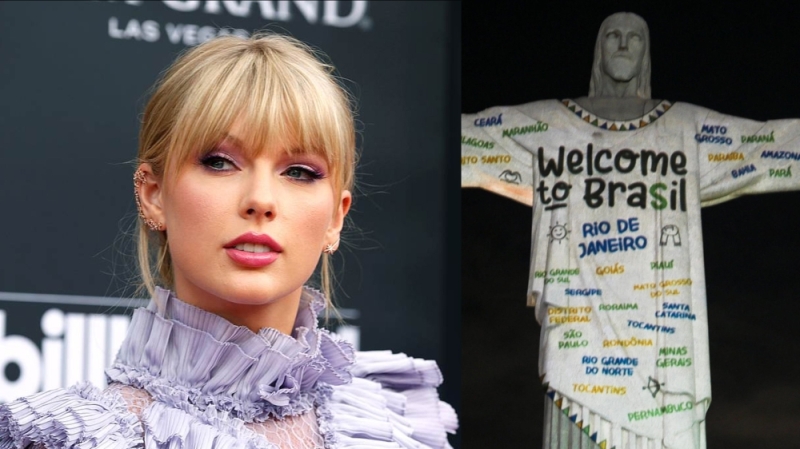 Taylor Swift just had a Brazilian experience that even the samba-dancing unicorns envy!
Our beloved 33-year-old songstress kicked off her extravaganza at Estádio Olímpico Nilton Santos in Rio de Janeiro, and Brazil rolled out the welcome wagon with such gusto that even carnival organizers took notes.
In a move that can only be described as divine intervention, the iconic Christ the Redeemer statue decided it needed a wardrobe update. Picture this: the statue donning a projection that could rival the trendiest fashion show in Milan. But what was the inspiration, you ask? None other than Taylor's "Junior Jewels" t-shirt from the "You Belong with Me" music video. Holy style evolution, Batman!
Now, here's where it gets even wilder than a monkey riding a skateboard: the projection reads "Welcome to Brasil." Rio's mayor, Eduardo Paes, must have thought, "What's the best way to make Taylor feel at home? Oh, I know! Let's dress up the big guy on the hill like a Swiftie!"
The powers-that-be in charge of the statue threw down the gauntlet, challenging Swifties to gather 20,000 units of bread and water. Yes, you heard that right. Bread and water, not sparkly pens or cat-shaped confetti. And guess what? The fans delivered! Who knew the path to Taylor's heart was paved with carbs and hydration?
In a spectacle that outshone even the most elaborate surprise birthday parties, Taylor reacted to this bread-and-water-powered tribute during the Evermore segment of her Eras Tour show.
"I just want to start off by saying that I feel completely unworthy of this honor, but it is sort of the nicest thing anyone's ever done for me," she exclaimed, probably wondering if her rider could be updated to include artisanal bread. "And I say that because I heard that part of why this was able to happen is because so many of you donated food and water, and that makes me so incredibly proud. I'm so proud of you. Thank you so much for everything that you do, including showing up tonight and being so nice to us!"
Brazil welcomed Taylor with open arms, a bedazzled Christ the Redeemer, and enough bread and water to fuel a worldwide Swiftie dance party. The lesson here? If you want to impress Taylor Swift, just throw bread at her. And water. But mostly bread.
🏟| Taylor on being honored with the Christ The Redeemer statue display:

"I just want to start off by saying that I feel completely unworthy of this honor but it is sort of the nicest thing anyone's ever done for me. And I say that because I heard that part of why this was able… pic.twitter.com/kAncNCPm44

— Taylor Swift Updates 🩵 (@swifferupdates) November 17, 2023