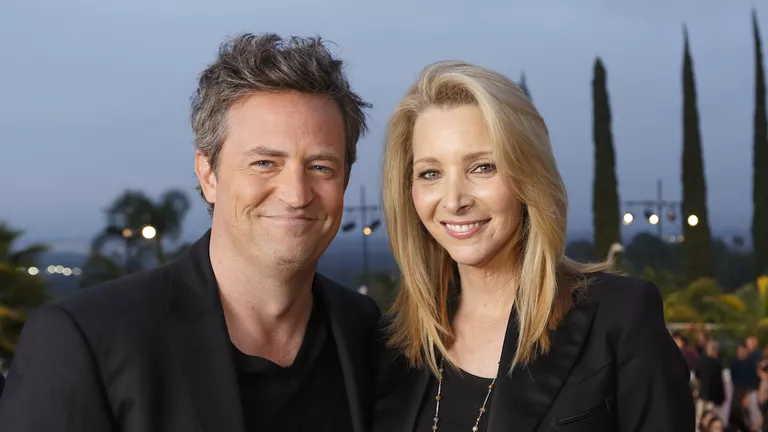 Lisa Kudrow unleashed a tidal wave of emotions on social media, crafting a tribute to her dearly departed Friends companion, Matthew Perry, that would make even Chandler Bing crack a smile.
The comedic saga began with the inception of "Friends Like Us," the pilot that kicked off our favorite sitcom. In a twist that would make a soap opera jealous, we found ourselves catapulted to the NBC Upfronts faster than Joey can devour a pizza. But lo and behold, Perry had a grand plan – poker! Yes, the man suggested a card game and managed to turn it into the funniest thing since Marcel the monkey.
"Shot the pilot, Friends Like Us, got picked up then immediately, we were at the NBC Upfronts," she revealed on Instagram. "Then… You suggested we play poker AND made it so much fun while we initially bonded. Thank you for that."
Kudrow thanked Perry for turning her abs into a six-pack with laughter-induced workouts. Yes, folks, his comedic genius was so intense that her muscles ached, and tears flowed like Central Perk's coffee.
Addressing the iconic Friends crew—Aniston, Cox, LeBlanc, Schwimmer, and herself—Kudrow applauded their open-hearted approach to a six-way relationship that required more negotiation than Ross and Rachel's "we were on a break" saga. "Thank you for your open heart in a six-way relationship that required compromise. And a lot of 'talking,'" she exclaimed.
The comedic eulogy continued, with Kudrow tipping her imaginary hat to Perry's on-set dedication, even when he was as sick as Joey was when he mistakenly ate that jam that wasn't meatball-flavored.
"Thank you for showing up at work when you weren't well and then, being completely brilliant," she noted, as if Perry had just delivered a punchline that left us all in stitches.
In a heartfelt climax, Kudrow expressed gratitude for the "best 10 years a person gets to have" and acknowledged Perry for imparting wisdom about grace and love. "Thank you for trusting me. Thank you for all I learned about GRACE and LOVE through knowing you. Thank you for the time I got to have with you, Matthew."
And thus, almost three weeks after Perry's suspected drowning death, Kudrow's tribute concluded, leaving us with the image of Chandler Bing and Phoebe Buffay playing poker in the celestial Central Perk, with tears of laughter rolling down their angelic faces. On November 3, Perry was laid to rest in a private ceremony, surrounded by friends, family, and presumably a chick and a duck.