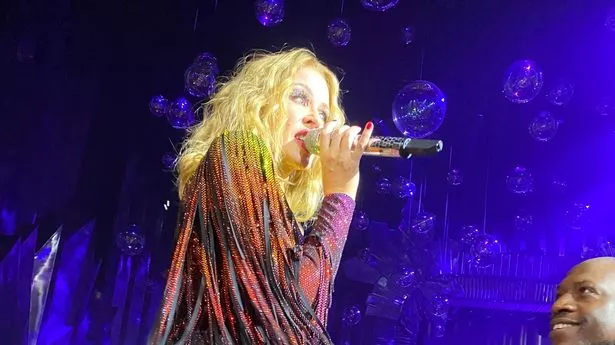 Kylie Minogue strutted into Sin City like the glittery queen she is, setting the desert ablaze with the launch of her spectacular concert series, 'More Than Just a Residency.' You might say Vegas hasn't seen this much glam since Elvis tried on his sequined jumpsuit for the first time!
Taking center stage at the spanking-new Voltaire venue at The Venetian, our beloved Pop icon unleashed a show that left audiences in a state of shock, in a good way. She dusted off her chart-toppers with the precision of a master chef whipping up a soufflé – except Kylie's ingredients were a pinch of "Light Years," a sprinkle of "Supernova," and a whole lot of "Your Disco Needs You" to spice things up. If that's not a recipe for a wild night, I don't know what is.
But Kylie didn't just stick to her classic hits. She served up some fresh tracks from her chart-topping album 'Tension,' leaving fans in a "Padam Padam" frenzy and taking them on a "Vegas High" like no other! Can we talk about the genius of naming a song after the city you're performing in? Kylie, you cheeky genius.
Now, let's talk about 'More Than Just a Residency.' We're not talking about your neighbor's awkward tap dance lessons; this spectacle is set to keep the Vegas strip lit up until May 2024. That's right, Kylie Minogue is here to stay, and she's not leaving until you've danced your heart out.
So, in case you're wondering if Kylie brought the house down, the answer is a resounding "yes." Her setlist was hotter than the Nevada desert in July, featuring classics like "Can't Get You Out Of My Head" and "The Locomotion." And let's not forget her smooth tribute to the King himself, Elvis, with a cover of "Can't Help Falling in Love." You could say she's keeping the 'Viva' in Las Vegas.
So, if you missed Kylie's glitter-fueled extravaganza in Sin City, don't worry. You've got plenty of time to book your tickets and experience 'More Than Just a Residency' for yourself. And remember, you're not just attending a concert; you're embarking on a journey through the disco-infused cosmos of Kylie Minogue. The only question is, can you keep up with her?