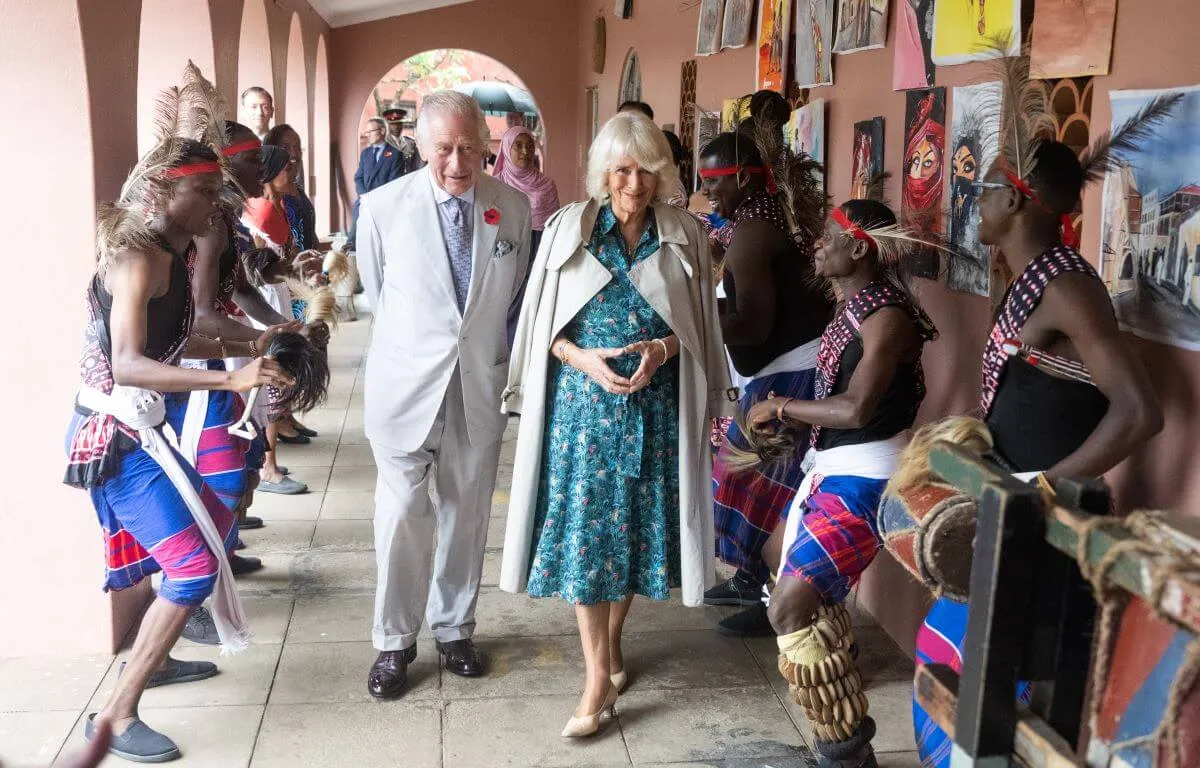 Buckingham Palace's industrious little critters were clocking in some serious overtime! Why, you'd think those beavers were handed a mop and a mission to scrub away all evidence of King Charles and Camilla's Kenyan escapade. It's as clear as a crystal ball in a fortune teller's tent when you dive into the ocean of "exclusive" reports from the entourage of royal reporters tagging along with Chuck and Cam.
Now, the palace is juggling more balls than a circus clown on caffeine: they're determined to convince the world that the Kenyan tour was more fantastic than a unicorn on roller skates, and that Charles is the heavyweight champ of diplomacy. And let's not forget their mission to distract everyone from any royal mishaps by dropping a truckload of gossip about the Sussexes. Plus, they're triumphantly waving their victory flag because, thank goodness, the Kenya tour didn't go down in flames like William and Kate's Caribbean caper last year. Phew!
Katie Nicholl, from Vanity Fair, is out here serving the finest royal fiction like it's high tea at Buckingham Palace:
"The trip, at the British government's request, was like a cupid's arrow to strengthen the already sizzling relationship between Britain and Kenya. Not to mention that super profitable multi-million-pound trade partnership! And, wouldn't you know it, it was a 'resounding success' on a Friday!"
"One aide dared to exclaim, 'Their Royal Highnesses have had a jolly good time, old chap. I daresay, it's been quite the resounding success!'"
According to some royal whisperer, there's a sigh of relief that this whole shebang didn't turn into a royal blooper reel. They're practically giving Charles and Camilla a standing ovation and already planning their next blockbuster, a Commonwealth world tour! Australia, New Zealand, and who knows where else. Kenya's success has them doing a happy royal jig.
Chuck and Cam must be over the moon, probably even on a unicorn this time, and they're thrilled they could shine a spotlight on the causes they're crazy about, both at home and across the globe.
Now, this is where it gets juicier than a ripe watermelon at a summer picnic. It turns out that King Charles's entourage might have goofed up during their Kenyan adventure, and the palace is trying to paper over the cracks by shouting, "Everything's perfect!"
A Kenyan journalist blew the whistle a few days ago, revealing some rather unpleasant tidbits. They spilled the beans about the not-so-welcome treatment that Kenyan and African journalists received while trotting alongside the King's royal parade. There were tales of British officials going all Hulk smash on a Kenyan official, and a refusal to feed local journalists. You can check out the full scoop in the Kenyan Foreign Policy article – it's juicier than a scone slathered with royal jam.