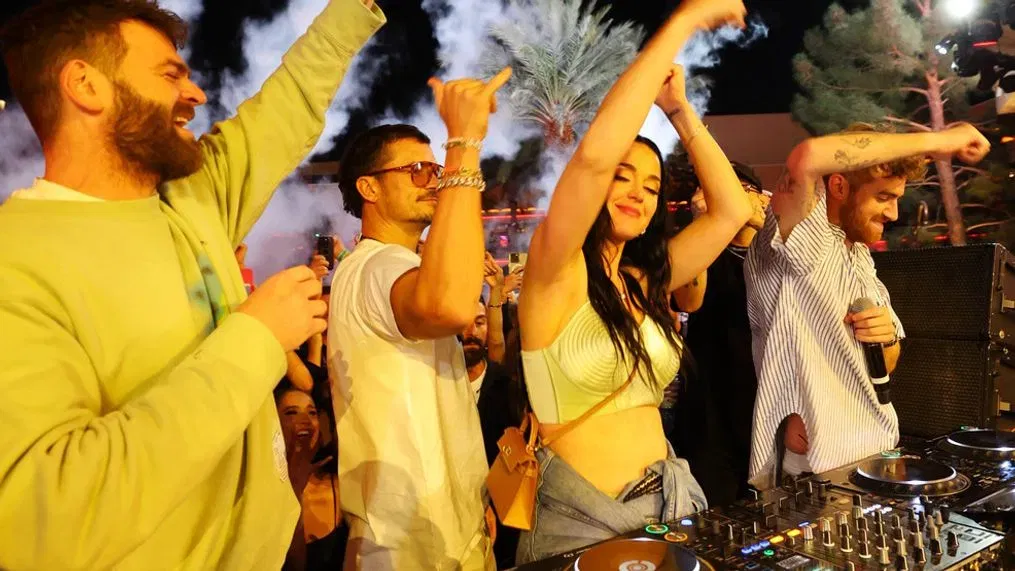 Katy Perry unleashed her inner party animal and went full-on wild-child mode after finishing up her Las Vegas residency over the weekend. Yep, the "Teenage Dream" diva is officially free from her Las Vegas musical captivity, and she celebrated like there was no tomorrow!
The 39-year-young pop sensation, along with her partner-in-crime Orlando Bloom, decided to spice up their Saturday night by crashing the DJ booth at XS Nightclub inside the swanky Wynn Las Vegas. They joined forces with none other than The Chainsmokers, those notorious beat-dropping maestros.
It was a double dose of fun as Katy had just dazzled the crowd with the grand finale of her Play residency at Resorts World. With her fans still reeling from her electrifying performance, she and Orlando decided to keep the party going.
And it was more than just your regular DJ booth appearance. Katy Perry, ever the show-stopper, decided to flaunt her flexibility skills. At one point, she lifted her leg high up into the air, proving that she can defy gravity just as easily as she can hit those high notes.
The Chainsmokers' dynamic duo, Alex Pall and Drew Taggart, couldn't resist getting in on the action either. They were right there, sharing the spotlight and enjoying the night like true party rockstars.
We'd love to show you the hilarious photos from that wild night, but the best way to experience it is by picturing a cosmic collision of pop royalty and electronic beats. It's like if a disco ball and a glitter factory had a baby – absolute fabulous chaos!
Katy Perry and Orlando Bloom letting loose, partying with The Chainsmokers, and proving that when it comes to partying, they're the true champions. This is the kind of news that makes you want to put on your dancing shoes and raise a leg (or two) in celebration! 🎉🕺💃