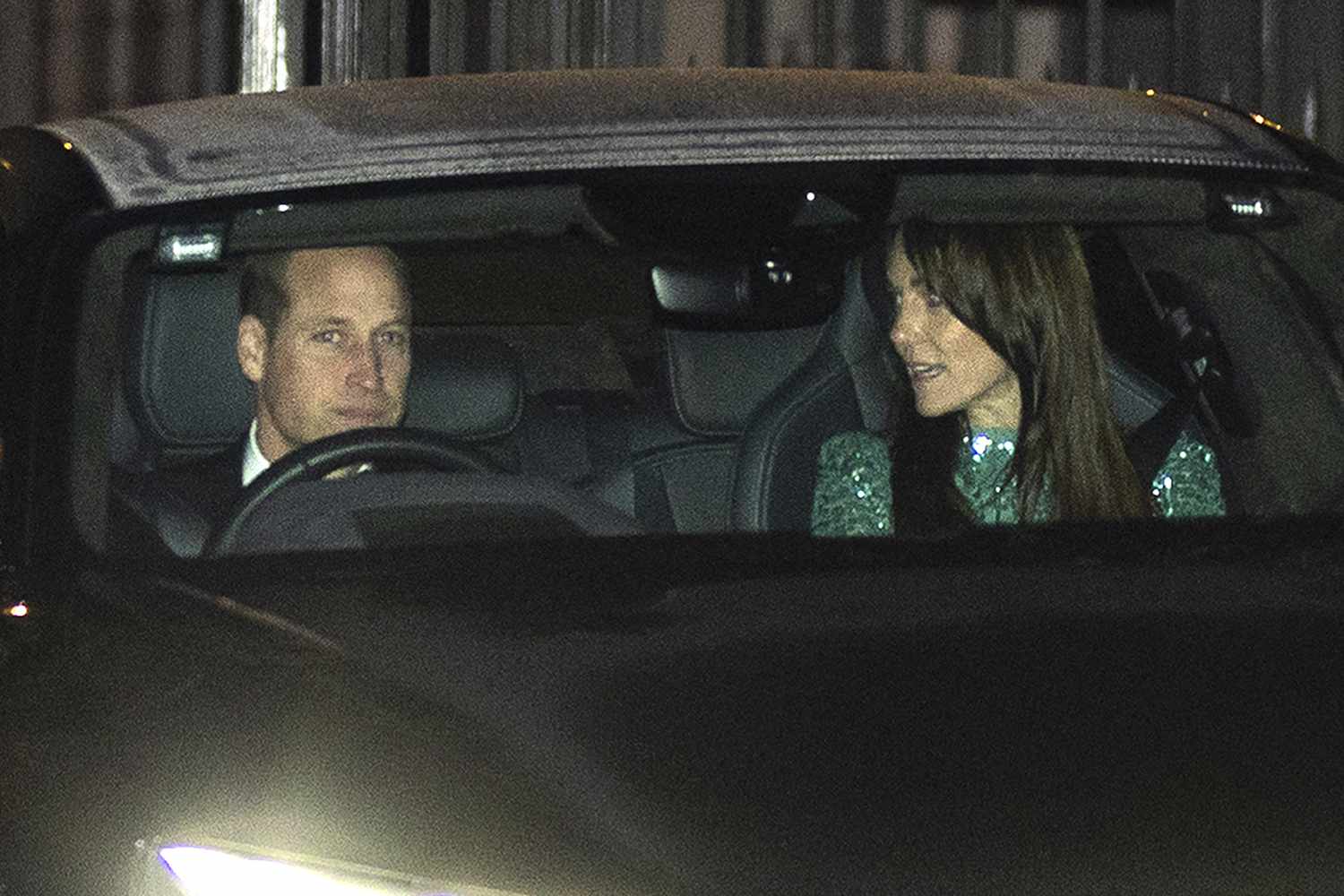 In a dazzling display of royal revelry, Prince William and Princess Kate couldn't stop grinning like Cheshire cats as they bid adieu to King Charles' epic birthday bash. Exiting the regal rager in their swanky carriage, the dynamic duo sported outfits so chic they could make Cinderella question her fashion choices. The 41-year-old Princess was the belle of the ball, showcasing her true beauty in an emerald, sequin-embellished gown that probably outshone the crown jewels.
Meanwhile, William, the heir to the throne, rocked a crisp white shirt and a black blazer, looking more dapper than a penguin at a black-tie affair. As they rolled away from the midnight party, their smiles hinted at some top-secret royal plotting—perhaps a grand scheme involving corgis, tea, and a surprise appearance by the ghost of Queen Victoria.
The guest list read like a who's who of the royal riff-raff, featuring the likes of Princess Beatrice, Lady Sarah Chatto (aka Princess Margaret's spawn), and Zara Tindall, who brought her ex-rugby player hubby, Mike Tindall, along for the ride. Even Queen Camilla's long-lost son from her first marriage, Tom Parker-Bowles, managed to crash the shindig. Talk about gate-crashing fit for a king!
However, conspicuously absent from the grand soirée was none other than the ginger-bearded troublemaker, Prince Harry. Rumor has it he missed out on the royal revelry because he was busy organizing a global symposium on the appropriate use of ginger emojis.
But fear not, dear subjects, because a clandestine phone call between Charles and Harry has apparently thawed the icy rift between father and son. Sources suggest that their heartfelt conversation was so successful that they've scheduled another telephonic tête-à-tête next week. Could this be the royal equivalent of a Netflix and chill session?
And in a surprising turn of events, King Charles received a pre-recorded video featuring his adorable grandchildren, Prince Archie and Princess Lilibet, belting out a royal rendition of "Happy Birthday." Move over, One Direction—there's a new boy band in town, and they're taking the monarchy by storm!
Meanwhile, Prince Andrew, Sarah Ferguson, and their youngest daughter, Princess Eugenie, were MIA at the bash. Maybe they were busy organizing a bingo night with Fergie as the caller, or perhaps they just didn't get the memo that it was a "fancy hats only" affair.
In the wild world of royals, where tiaras are as common as morning tea, this birthday bash was a spectacle to behold. Long live the monarchy and its penchant for sequins, smiles, and surprising family drama!