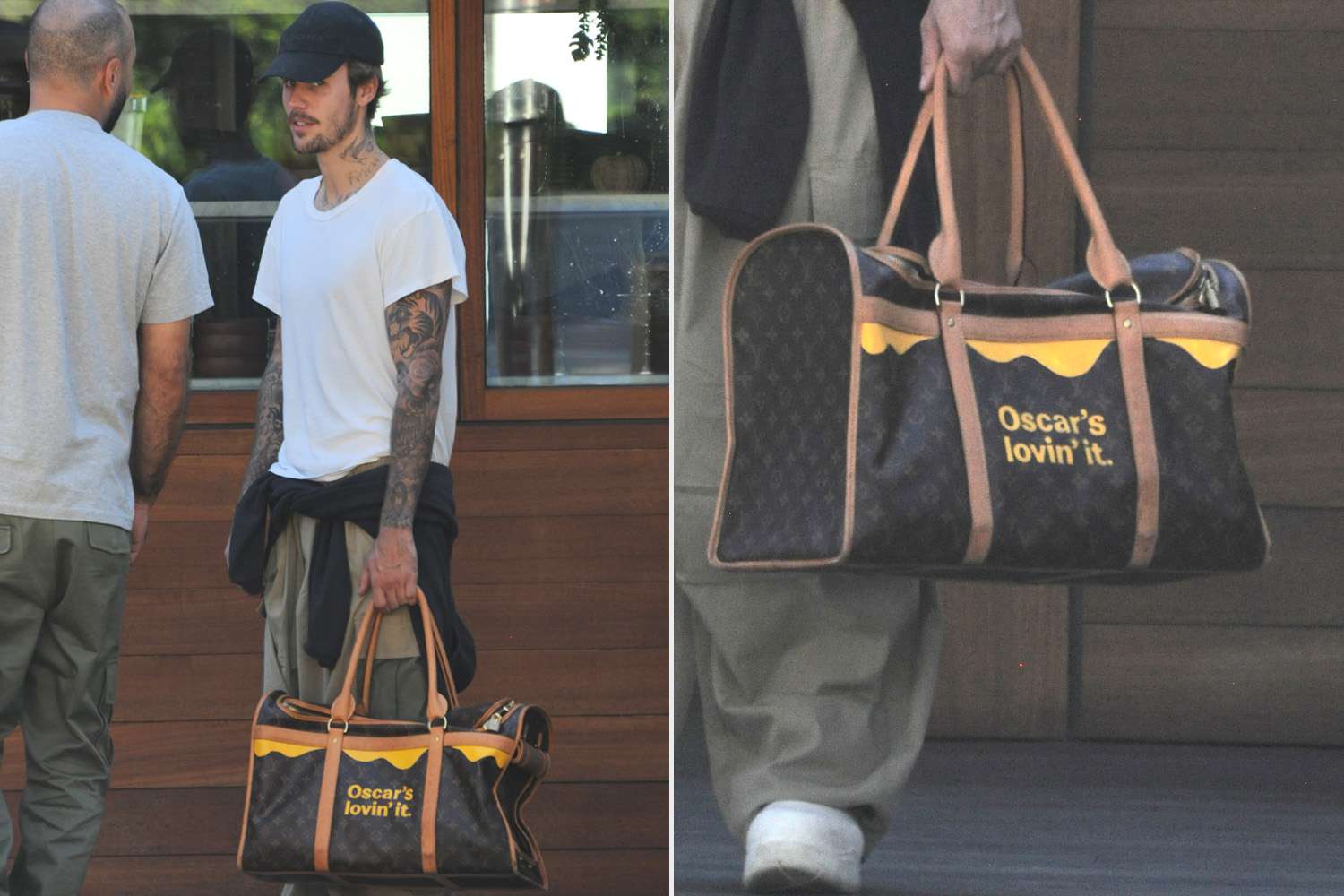 Guess who we spotted strutting their stuff in the City of Angels? It's none other than the Biebs himself, Justin Bieber, and his furry fashionista sidekick, or should we say "paws-tner in crime"! The 29-year-old pop sensation was seen on a fabulous Friday (November 3) outing in sunny Los Angeles, and what was he carrying, you ask? Not his latest chart-topping hit, but one of his adorable doggos snuggled up inside a Louis Vuitton bag. Move over, Hollywood; the real star of this show is canine couture!
Justin's street style game was on point, as always. He sported an oversized white t-shirt that could probably double as a circus tent, some black ripped shorts that looked like they've been in a brawl with a lawnmower, and to top it all off, pink and white sneakers that screamed, "Hey world, I'm here to party!" As if that wasn't enough, he had a pair of sunglasses casually perched on his head, because, you know, even the sun couldn't resist taking a peek at the Biebs.
Now, in case you didn't know, this musical maestro and his lovely wifey, Hailey Bieber, are proud pet parents to not one but two adorable furballs. There's Oscar, the Maltese Yorkie they adopted back in 2018, and Piggy Lou, the small but mighty addition to their fur-mily, who made her grand entrance just last year. Talk about a star-studded canine cast!
The Bieber's doggy dazzle doesn't stop there. Last week, this dynamic duo took their fur babies out for a swanky lunch date. Can you imagine the conversation at that table? "Oscar, pass me the kibble, please. Piggy Lou, have you heard the latest bark in town?" These dogs probably have more social clout than most of us!
And if you thought Halloween would be just another day for the Biebers, think again. While most couples were busy deciding between "Bonnie and Clyde" or "Peanut Butter and Jelly" costumes, these two threw a curveball. Justin Bieber donned a shirtless deer onesie that likely left the deer population scratching their antlers in confusion, while Hailey rocked a black minidress with a long trench coat and a matching balaclava. It's official: they've declared Halloween the official day of quirky fashion statements!
A day in the life of Justin Bieber and his fabulous fur babies. From designer doggy bags to dressing up like a shirtless deer, these two never fail to keep us entertained.