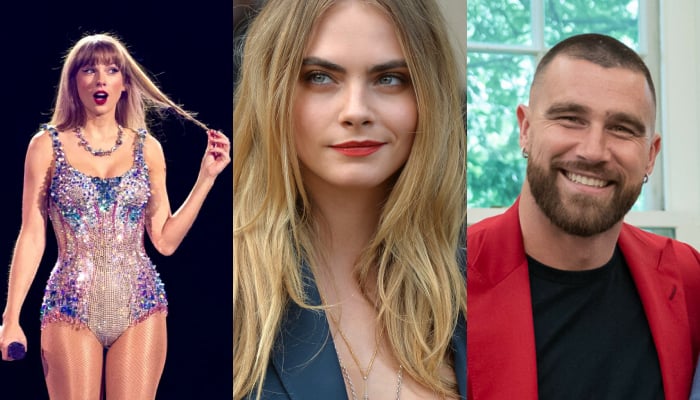 Cara Delevingne, the master of spilling the tea with a side of sass, just spilled some piping hot gossip about her BFF Taylor Swift and her new flame, Travis Kelce! Hold onto your hats, because this is the scoop you never knew you needed.
Cara, 31-year-old model and actress extraordinaire, has been tight with T-Swizzle since approximately the prehistoric year of 2013. You might remember Cara as one of the fabulous squad members who graced the screen in Taylor's legendary "Bad Blood" music video back in 2015. Talk about a throwback!
Now, fast forward to the present day. Taylor, 33-year-old queen of "Wildest Dreams," has everyone buzzing about her latest romantic escapade with none other than the 34-year-old NFL sensation, Travis Kelce. Seriously, did someone just crank up the romance dial to 11?
Our beloved Cara, with her front-row seat to the Taylor and Travis love rollercoaster, spilled the beans to E! News at the 2023 F1 Las Vegas Grand Prix. Drumroll, please! "I'm so, so happy for her," Cara declared, probably with the biggest grin ever.
According to Cara, there's "definitely something very different about them." Oh, do tell, Cara! Is it the way they synchronize touchdown dances with love ballads? Or perhaps they communicate through secret quarterback signals and catchy choruses? We need details, and we need them now!
And because Cara is the ultimate hype woman for her gal pal Taylor, she couldn't resist throwing in a cheerleader-worthy statement: "I'm always rooting for my girl." Can we get a touchdown dance for friendship goals, please?
The lowdown on Taylor Swift and Travis Kelce's love affair, served with a side of Cara Delevingne's infectious enthusiasm. Stay tuned for more thrilling updates, because when Cara talks, we all listen – especially when it involves the romantic escapades of our favorite pop sensation.
📰 | Cara Delevingne talks about Taylor Swift and Travis Kelce:

"I'm so, so happy for her…There's definitely something very different about them. I'm always rooting for my girl." pic.twitter.com/DL3loE3tLf

— Taylor Swift Charts (@TaylorSwiftChar) November 20, 2023