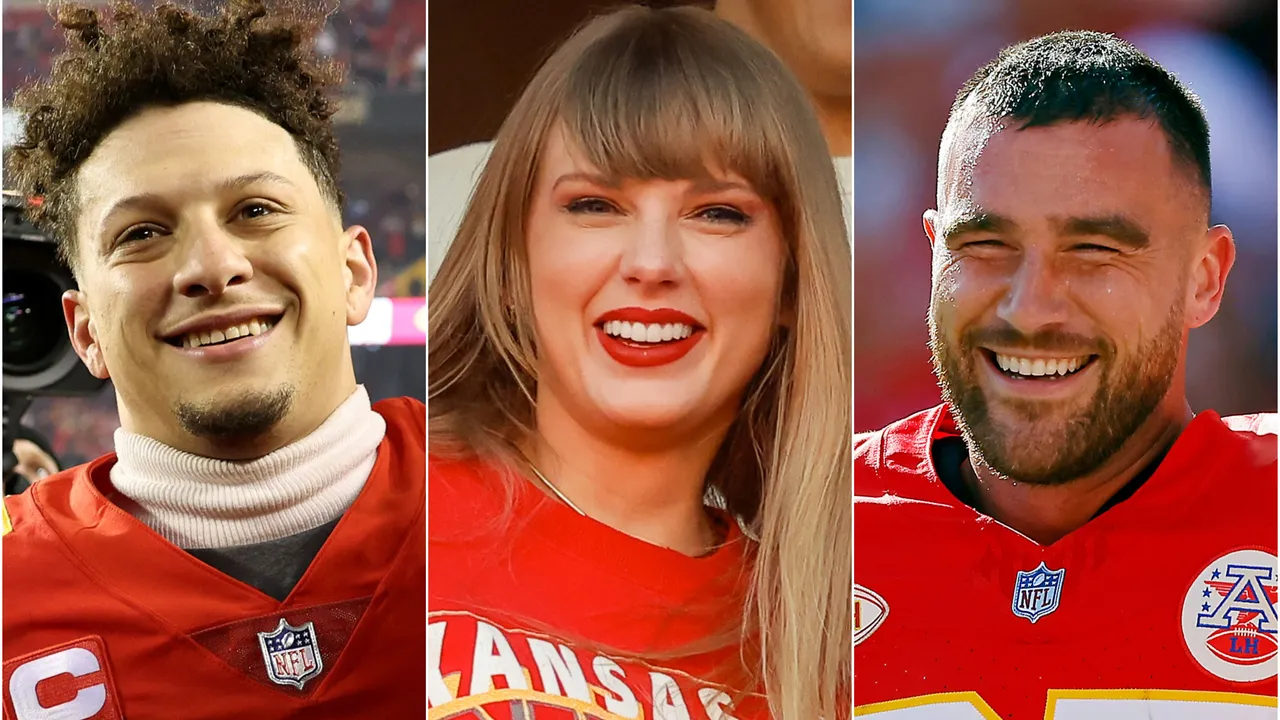 Patrick Mahomes, the quarterback with a rocket arm and a knack for handling spicy romance rumors, has sworn on his collection of lucky footballs that the Taylor Swift and Travis Kelce love saga isn't throwing off his game.
In an interview with ESPN, the Chiefs' maestro, aged 28 but with the wisdom of a quarterback well beyond his years, nonchalantly dismissed the hullabaloo around Taylor and Travis, saying, "I don't think it feels any different." Well, slap a handlebar mustache on him and call him Captain Cool!
"People see the whole Taylor Swift and Travis [thing] and they make it a huge deal because it is a huge deal. I think it becomes a bigger deal to the fanbases than it does to the guys who are actually in the building," Mahomes declared, as if he's the zen master of football and love affairs.
Mahomes, who's been fortunate enough to encounter Taylor Swift and survived to tell the tale, spilled the beans that her fame is about as distracting as a squirrel on a football field. "Everybody cares about being the best they can be every day," he philosophized, hinting that the only thing distracting him might be planning a European getaway to catch T-Swift's concert during the off-season.
Swift and Kelce, the star-crossed lovers of the NFL, were first linked in a romantic yarn spun in the fall. It all started when Kelce, attempting to be the Romeo of Kansas City, failed spectacularly at passing Swift his digits after her concert. Since then, the "Bad Blood" singer has been spotted donning her finest team colors, cheerleading like it's the Super Bowl every time Kelce hits the field.
In a surprising twist, Kelce returned the favor by jet-setting to Buenos Aires to witness Swift in all her pop glory. The pop sensation, not one to play by the rulebook, changed the lyrics to "Karma" just to mess with Kelce's head. Kelce, on his podcast appropriately named "New Heights," spilled the tea, admitting, "I had no clue. Well, I might have had a little bit of a clue. Definitely when I heard it come out of her mouth [it] still shocked me."
The lovebirds even stole the show at a concert, sharing a sweet smooch that had fans swooning faster than Mahomes' passes. In a move that's straight out of a romance novel, Kelce, having just watched the concert alongside Swift's dad, waited backstage for the "Anti-Hero" singer. When Swift pranced off the stage, she ran into Kelce's arms, causing the crowd to erupt in cheers. If that's not a touchdown, what is?
As for the couple's parents, they reportedly had plans to play nice and meet at the Eagles vs. Chiefs game. However, Swift threw a curveball, postponing her second Brazilian show due to extreme temperatures. In a note that probably had hearts melting faster than ice cream in July, she wrote on Instagram, "The safety and well-being of my fans, fellow performers, and crew always has to come first."
In the midst of the sizzling love affair, there was a heartbreaking note. A young fan, caught in the heat wave of emotions at her first show, tragically succumbed to heart failure. It's a stark reminder that love, like football, can be a game of highs and lows, touchdowns and heartbreaks.
A tale of love, football, and Taylor Swift that's more dramatic than a Hollywood blockbuster. Patrick Mahomes, the unflinching quarterback, is unfazed, and the love story continues to unfold on the gridiron of life.