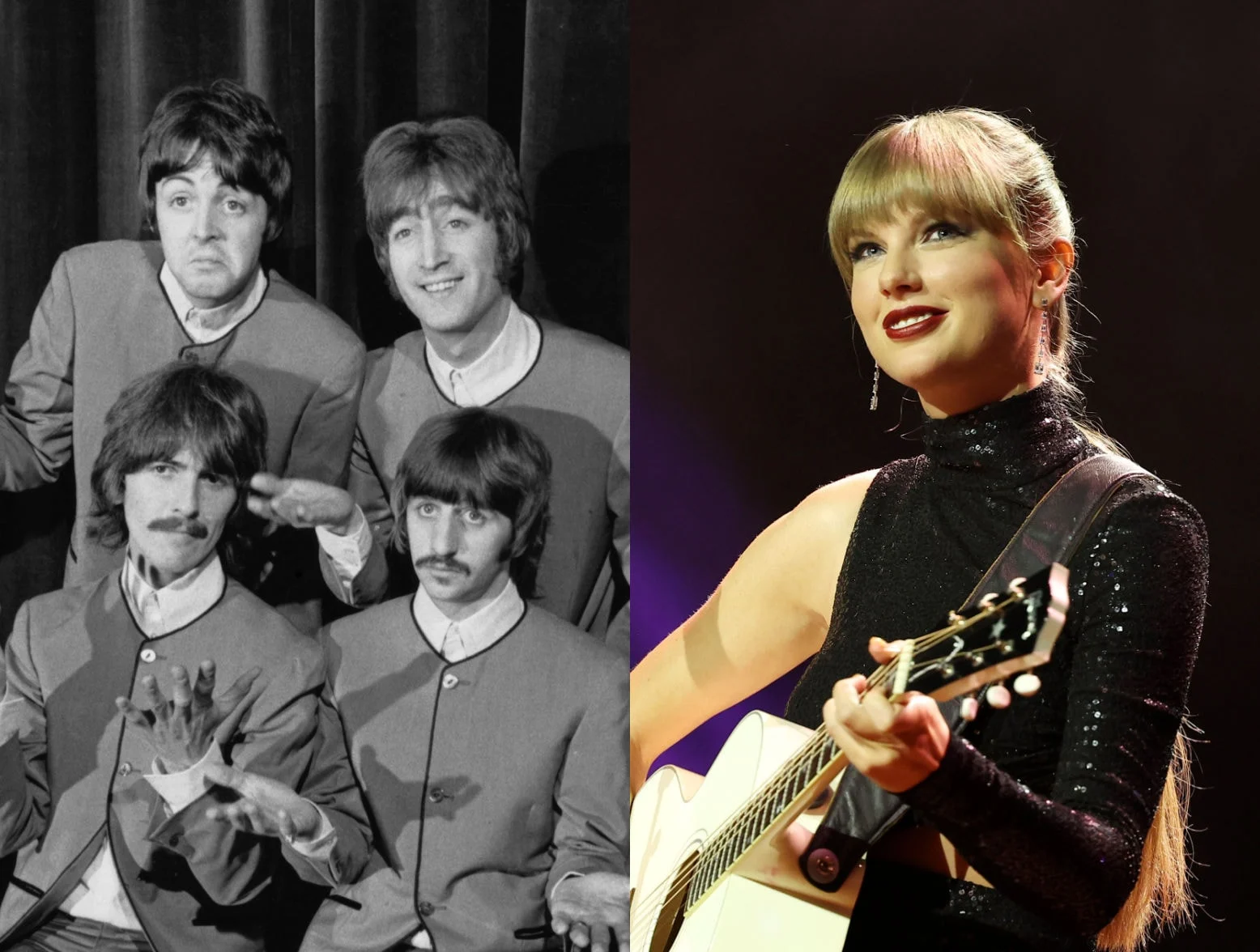 Taylor Swift Takes a Hilarious Victory Lap, Outpaces The Beatles in UK Album Chart Marathon!
Move over, Beatles, there's a new chart conqueror in town, and she's armed with more sass than a cat meme on the internet. In a plot twist that even Shakespeare would find amusing, Taylor Swift has once again proven she's the reigning queen of the UK album chart, leaving The Beatles to dust off their mop-top wigs and ponder life's great mysteries.
The Fab Four, in a valiant attempt to rewrite their chart history, dusted off their timeless classics, the Red and Blue albums, last week. Little did they know, they were about to face a pop juggernaut armed with glitter, catchy tunes, and an unyielding determination to stay at the top.
Taylor's pop masterpiece, 1989 (Taylor's Version), not only seized the throne but held onto it for a third week, leaving The Beatles twiddling their mustaches in disbelief. It seems even the ghosts of Abbey Road couldn't keep up with T-Swizzle's chart domination.
Back in 1973, when The Beatles first unleashed the Red and Blue albums on the world, they found themselves in a déjà vu situation, much like that time you check the fridge for the tenth time, hoping snacks magically appear. They were beaten to the top by David Bowie's Young Americans, and history has a wicked sense of humor as it repeats itself.
Fast forward fifty years, and the charts are having a nostalgic reunion with The Beatles' 1962–1966 Red Album chillin' at number three and the 1967–1970 Blue Album strutting its stuff at number two. It's like the charts said, "You were great in the '60s and '70s, lads, but T-Swizzle is running the show now."
But fear not, Beatlemaniacs, because with fifteen UK number one albums overall, The Beatles are still the undisputed champions. It's like having a lifetime achievement award, but in the form of chart-topping glory.
Rolling Stone once dubbed the original Red and Blue compilations as "eight of the most-perfect album sides ever devised." Well, move over perfection because Taylor Swift just served up a feast of pop goodness that not even a time-traveling Lennon could resist.
The Beatles threw in some remastered versions of their greatest hits, including a "new" song called Now And Then, a gem resurrected from a John Lennon demo. It's like finding that missing sock in the laundry—unexpected, but oh-so-satisfying.
In a grand finale, twenty more tracks, featuring classics like Twist and Shout, Taxman, Dear Prudence, and Blackbird, were added to the albums. It's the musical equivalent of getting bonus fries at the drive-thru—more is always better.
Taylor Swift not only stole the crown but did it with a wink, a mic drop, and probably a cat meme or two. The Beatles may have had their time, but in the words of T-Swizzle herself, "haters gonna hate, hate, hate, hate, hate, and chart-toppers gonna top, top, top, top, top!"