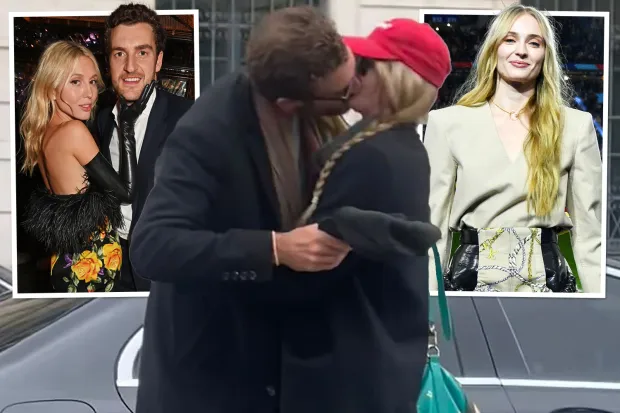 Sophie Turner seems to have set her sights on a new royal target! That's right, the 27-year-old Game of Thrones star was spotted locking lips with none other than British aristocrat Peregrine Pearson, 29, during a romantic day out in the city of love, Paris. Ooh la la!
This juicy smooch reportedly went down on Saturday, October 28, just hours before Sophie's big appearance at Stade de France, where she was set to unveil the Rugby World Cup trophy. Talk about a pre-game warm-up, huh?
And guess what? We've got the photo evidence to prove it! The Sun graciously shared the snapshot of the magical moment, and we're all left wondering if there's a "kiss-and-tell" aristocracy now.
According to an eyewitness account that's probably more thrilling than the latest Game of Thrones episode, Sophie and Peregrine made quite the entrance. They rolled up together at the chauffeur pick-up spot outside the station, looking like they might've just hopped off the Eurostar from London – talk about international romance!
As they stood there, chit-chatting away, it was clear that they were having a grand old time. Peregrine, clearly eager to impress, whipped off his hat (because nothing says romance like hat removal), and then he went in for the kiss of a lifetime. Afterward, they waved goodbye and went their separate ways, probably leaving behind a trail of awestruck Parisians.
Now, let's take a moment to get to know our aristocratic leading man, Peregrine. He's not just any bloke; he's the heir to the fourth Viscount Cowdray! Quite the title, right? But wait, there's more! He recently parted ways with Princess Maria-Olympia of Greece and Denmark, who just happens to be the goddaughter of King Charles. Talk about a royal rendezvous!
In case you've been living under a pop culture rock, Sophie and her estranged husband Joe Jonas had a summer breakup that led to a custody battle that's probably more dramatic than the Red Wedding. And now, it seems Sophie is swiping right on Peregrine's private Instagram account. Modern love, am I right?
The Sophie Turner and Peregrine Pearson Parisian smooch that rocked the world. Who knows what romantic escapades are in store for this dynamic duo? Winter may be coming, but love is definitely in the air!