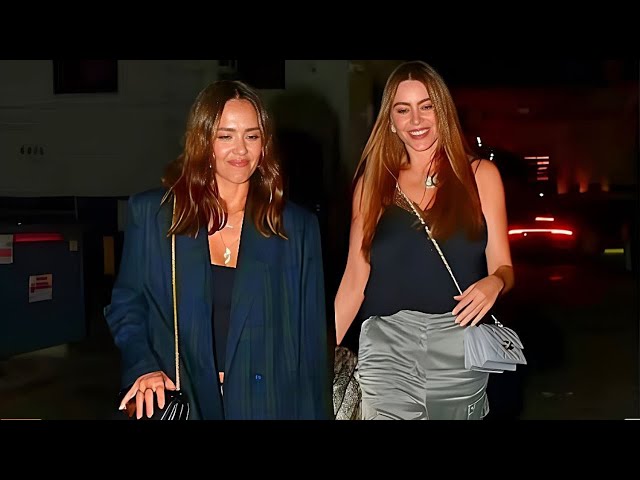 Sofia Vergara and Jessica Alba are taking the town by storm!
The 51-year-young Modern Family superstar and the 42-year-old Fantastic Four sensation were spotted gallivanting through the streets of Beverly Hills, California, like they owned the place. They weren't just stepping out; they were practically tap dancing out!
Dressed to impress, Sofia rocked a black top paired with silver silk pants, creating an outfit that screamed, "I woke up like this, fabulous!" And as for Jessica, she decided to redefine the meaning of "power suit" by donning a navy and emerald-green plaid ensemble that probably made nearby shrubs jealous of her fashion sense.
It was a night filled with so much laughter that they probably broke the neighborhood's "Fun-O-Meter" (if that's even a thing). We're talking belly laughs, snorts, and giggles that could rival a sitcom's laugh track. Who knew that a casual dinner at Funke could turn into a comedy show?
But the fun didn't stop there! A few days later, Sofia Vergara had jaws dropping as she strolled into the SBE Entertainment Group offices looking like the queen of denim. She sported a full denim outfit that was so cool; even the cows were jealous of how they never looked that good in their own hides. We're talking denim shirt, denim pants, denim shoes – she was a walking, talking denim extravaganza!
Sofia and Jessica sure know how to turn everyday activities into headline-worthy adventures. The streets are their runway, and they're strutting it with style, laughter, and more denim than you can shake a cow at. Beverly Hills will never be the same!