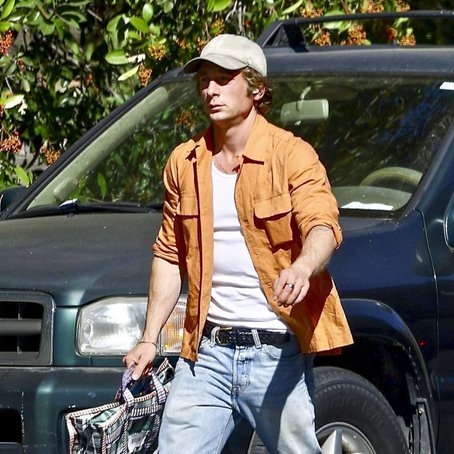 Jeremy Allen White is on the move!
This 43-year-old superstar, famous for gracing our screens in classics like "The Bear" and "Shameless," decided to embark on an epic adventure to a local farmers market in sunny Studio City, California. Why, you ask? Well, who knows what the man of the hour was hunting for? Maybe he had a craving for organic kale or was desperately seeking the world's rarest avocado – we can only speculate!
Now, here's the fashion rundown, and it's a sight to behold. Jeremy sported an unbuttoned orange shirt that may or may not have been an ode to the rebellious button itself, paired with a white tank top that was probably there to show off his farmer's tan, topped off with jeans and a tan baseball hat that screamed, "I'm incognito, but not really!"
In the wonderful world of celebrity romance, Jeremy and the sensational Rosalía recently set the grapevine on fire with some tantalizing dating rumors. They were spotted shopping together, and just a few days before that, they were spotted having a dinner date. Who knows what love blooms in the aisles of a grocery store or under the soft candlelight of a fancy restaurant? Stay tuned for the next thrilling installment of "Celebrity Relationship Bingo"!
But the fun doesn't stop there friends. Brace yourselves because Jeremy is about to hit the big screen once again! Get ready for the cinematic masterpiece of the year as he shares the spotlight with none other than Zac Efron and Lily James in the upcoming blockbuster, "The Iron Claw." Mark your calendars for December 22, and don't forget to watch the trailer, which is probably so exciting it'll make you question your choice of a career that doesn't involve clawing iron things.
A day in the life of Jeremy Allen White: filled with fashion statements, dating rumors, and a movie that's bound to claw its way into your heart.