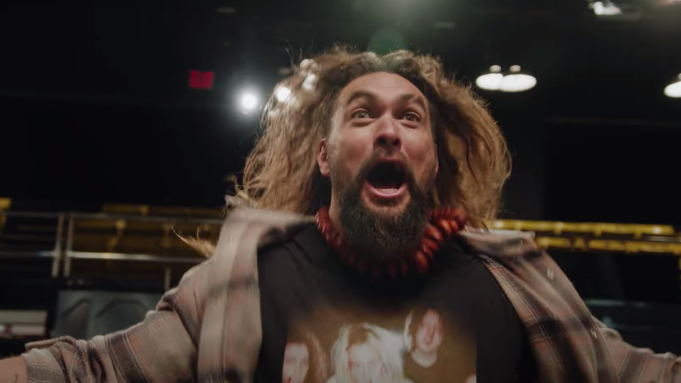 Jason Momoa is strapping on his comedy boots for another round of Saturday Night Live shenanigans!
The 44-year-old Aquaman himself is set to commandeer the SNL stage on November 18, accompanied by the musical vibes of Tate McRae. This isn't Jason's first rodeo – he previously took the SNL reins on December 8, 2018, and he's back to unleash more hilarity.
In a promo video that dropped on Wednesday (November 15), Jason took a trip down memory lane to his inaugural SNL stint, declaring with a grin, "I'm back, baby." But, hold onto your fins, because the Fast X star had a surprise in store – he appeared to have misplaced his pants, engaging in a slow-motion dance that would make even Aquaman himself question his life choices.
Enter Ego Nwodim, the voice of reason in this pants-less paradise, interrupting Jason's gravity-defying dance moves with a stern reminder, "We love you, but you just can't be wearing your underwear. This is a workplace." Jason, unapologetically in his own world of mirth, fired back with, "I'm sorry. When I get excited, I forget my pants." And when Ego tried to bring some decency to the situation by suggesting he cover up, Jason retorted with a confident "no chance" and continued his impromptu pantsless performance.
It seems the only thing tighter than Aquaman's underwater suit is Jason Momoa's commitment to keeping things hilariously breezy on the SNL stage. Get ready for a tidal wave of laughter – Momoa is back, sans pants and with a whole lot of comedic swagger!
Jason Momoa is back, baby pic.twitter.com/5g78q2M4De

— Saturday Night Live – SNL (@nbcsnl) November 15, 2023