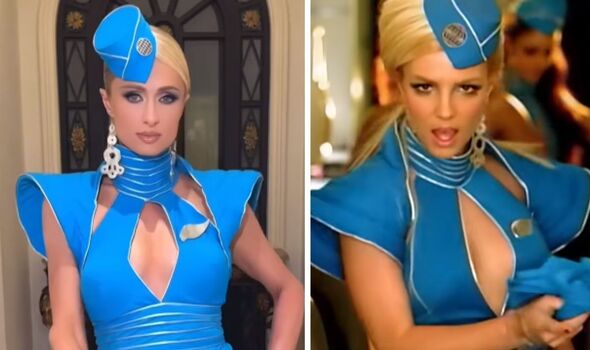 Paris Hilton and Jessica Alba proved that the love for Britney Spears transcends time, space, and gravity-defying music videos!
Picture this: It's a dark and spooky Friday night in the City of Angels, and Rande Gerber throws a Casamigos Halloween bash that's hotter than a ghost chili pepper. And who's on the guest list? None other than Paris and Jessica, duh! They decided to channel their inner Britney Spears, and boy, did they nail it!
Paris Hilton, the original heiress of the hotel empire, strutted her stuff in a sassy blue flight attendant outfit. She's basically the captain of the "Toxic" airline, and we're all ready to take off on that wild ride. Jessica Alba decided to bedazzle our lives with a glittering bodysuit and a blonde wig that's shinier than a disco ball at Studio 54.
And what's a flight without a pilot, right? Paris' hubby, Carter Reum, didn't miss the chance to get in on the Britney-themed action. He suited up as a pilot, ready to take Paris on a love-filled, turbulence-free journey. It's a true love story at 30,000 feet!
Paris, being the social media maven that she is, took to Instagram to share her Britney-inspired look with the world. She captioned her post with, "In honor of our Queen👸🏼 Happy Halloween 🎃 #IconsOnly 👑," while jamming out to "Toxic" in the background. Because when you're paying tribute to the Queen, you've got to do it in style.
This Casamigos Halloween party wasn't just a regular party; it was a Britney Spears extravaganza. Paris and Jessica took it to a whole new level of "Oops!… I Did It Again" awesomeness, and we're here for it. It's safe to say that the night was "Toxic," in the best way possible! 👻🎃🛫💃