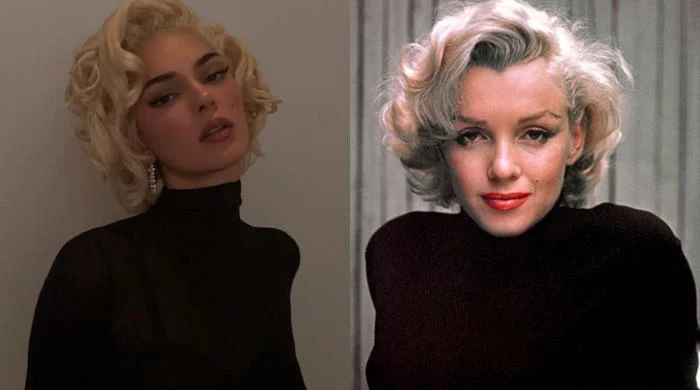 Kendall Jenner dove headfirst into the Halloween hoopla with all the grace of a cat on roller skates, magically transforming herself into the one and only Hollywood sensation, Marilyn Monroe. You bet your spooky socks, she nailed it!
Our supermodel supreme opted for a look that was more chic than a Parisian poodle sipping espresso at a sidewalk café. She decided to give a nod to the iconic Marilyn Monroe, and boy, did she do it justice!
In a dazzling reveal on the grand stage of Instagram, Kendall unveiled her Marilyn-esque transformation. Picture this: Kendall's sporting a black turtleneck that's as plain as your Aunt Mildred's meatloaf. Paired with those snazzy white pants, she looked like she was ready to hit the town, or at least the town's hottest Instagrammable spots. But the pièce de résistance? A blonde wig that would make Rapunzel green with envy!
And the caption? Oh, you bet it was on point. "Happy birthday, mister president," she wrote with all the finesse of a ninja cat serenading a birthday cake. A nod to that legendary Marilyn Monroe moment with President John F. Kennedy in 1962, because who could forget the time Marilyn sang a sultry "Happy Birthday" to the commander-in-chief? Kendall certainly didn't, and she made sure we didn't either.
Kendall Jenner channeled her inner Marilyn with all the flair and sass you'd expect from a supermodel. Here's to more Halloween transformations that make us giggle like witches on a broomstick!