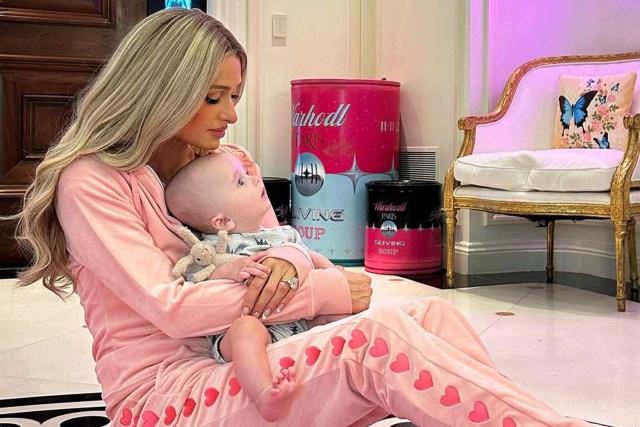 Paris Hilton has this reality show, and I know what you're thinking, "Paris Hilton has a reality show? Really?" Well, believe it or not, she does. It's called "Paris in Love." And guess what? It's not about her searching for the world's tiniest purse or trying to find the perfect shade of pink for her chihuahua's manicure. No, it's all about love and marriage. Season one documented her journey to the altar with some dude named Carter Reum. Now, did people actually watch this show? Was there a fervent interest in watching Paris Hilton tie the knot? I mean, besides Paris Hilton herself? Well, someone must have been tuning in because guess what? It's getting a second season. Yep, they decided that the world needed more Paris in Love.
So, season one was all about love, and season two? You guessed it, it's all about that baby carriage! Paris is taking us on a wild ride from marriage to parenthood. In a trailer for this new season, we witness the magical moment when Paris meets her son for the first time. It's touching, really. But here's the kicker – she didn't bother telling her own family that she was expecting a baby via surrogate until after the little one made his grand entrance into the world. Surprise, Mom and Dad! You're grandparents now! Talk about a plot twist.
While season one was all wedding bells and champagne, season two is all about dirty diapers and baby formula. Paris and Carter's lives are forever changed with the arrival of their son, Phoenix Barron Hilton Reum, who was born via surrogate on Jan. 16, 2023. You'll get to witness the former Simple Life star introducing her bundle of joy to her unsuspecting family. They didn't even know she had a bun in the oven, let alone a fully baked baby.
The trailer starts with Paris confessing, "I've given my whole life to everyone for so long. It's just been really important to me to keep it a secret. It's the first time that something is just mine." And that "something" turns out to be her son, Phoenix, who rolls into the hospital room like a rock star on wheels. The big shocker is when Paris reveals her secret to her mother, Kathy Hilton, saying, "I got you a surprise. This is your grandson, Phoenix." Kathy's tears of joy are like a tropical storm of emotion. It's like they've won the baby lottery.
Paris doesn't stop there. She introduces her son to sister Nicky Hilton via FaceTime, and Nicky's reaction is priceless: "What is that? Is that real?" The poor woman couldn't believe her eyes. A baby Hilton, who would've thought?
Now, from a gal who thrives on attention like a vampire loves blood, keeping a baby secret for nine whole months just to capture the priceless reactions of her family on camera is next-level commitment to reality TV drama. Even Kris Jenner is probably kicking herself for not thinking of this first. You'd think it's all scripted, but Kathy Hilton's acting skills are about as subtle as a sledgehammer. So, we'll give Paris a gold star for authenticity.
If you haven't seen the trailer (and really, I don't blame you), it's a rollercoaster of emotions. It starts with Paris looking like she's about to lead a revolution, with the crowd chanting her name. There's Kathy's tearful joy at the surprise grandson. Then there's the comedy of baby Phoenix treating Paris's fancy dress like a toilet. And the cringe-worthy moments of Paris trying to figure out how to hold a newborn while still looking camera-ready. But the grand finale is when Nicky confronts Paris about some abuse allegations from her memoir. Drama, baby!
And the cherry on top? Paris trying to feed Phoenix when he lets out a tiny baby toot. Her reaction? "Did you just fart on me?" The music swells, and it's like the climax of a soap opera. Seriously, in Paris's world, this trailer is an Oscar-worthy masterpiece.
In case you're still curious (or just love a good train wreck), season 2 of "Paris in Love" premieres on Peacock on November 30, with new episodes dropping every Thursday. Get ready for more Hilton family shenanigans and a side of Paris you never knew existed.