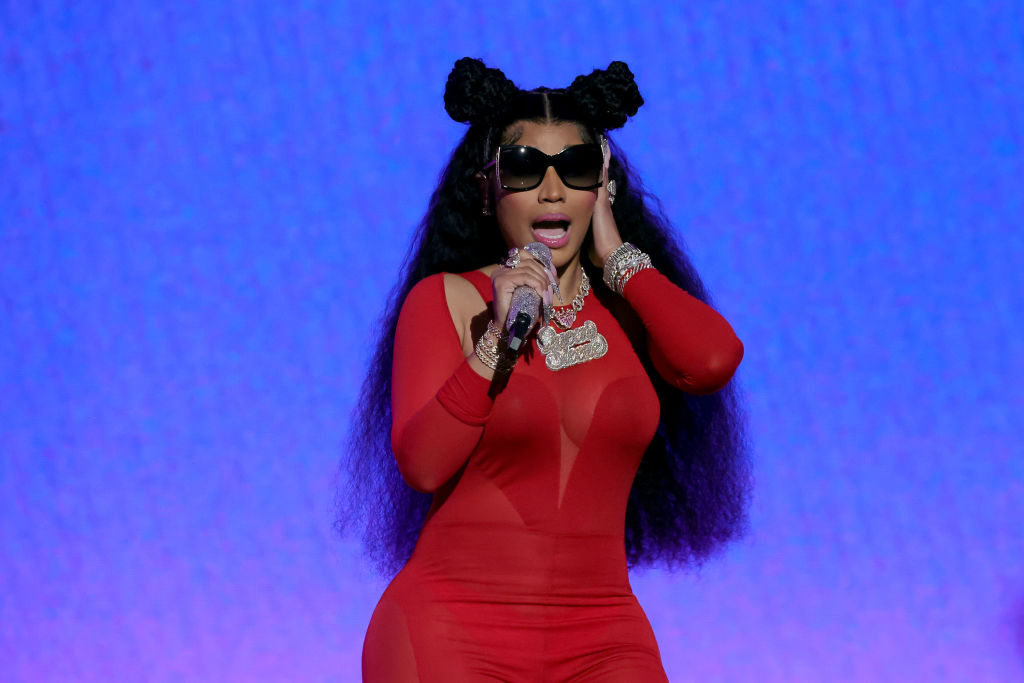 Hold on to your wigs, because Nicki Minaj is about to embark on the Pink Friday 2 Tour, and Barbz are losing their cool faster than you can say "super bass"! The excitement is so real that the tour website got hit harder than a beat drop at a dance party.
The 40-year-old rap queen of the "Barbie World" spilled the tea on the first batch of cities she's gracing with her presence on the Pink Friday 2 Tour. And guess what? Barbz worldwide were so hyped that they practically broke the internet—again. Move over, Kim Kardashian!
Nicki, being the generous queen she is, shared some deets on snagging those golden tickets. Despite the website doing a disappearing act faster than a magician's bunny, the Barbz made sure to spread the word like wildfire, making #PinkFriday2Tour trend everywhere, even in your grandma's bingo night.
In her epic post on X (formerly Twitter), Nicki, in all her glory, urged fans to sign up for the tour, even if their city didn't make the initial cut. "In fact, by signing up tmrw, you help to have your city added to the OFFICIAL routing if it's not currently a city on our list," she spilled. Imagine being the hero who brings Nicki to your town—move over, local politicians!
And hold your horses, because Nicki spilled the tea that only "approximate dates" have been revealed. You can't buy tickets just yet, but signing up for "access to presale tickets" is the next best thing. It's like getting VIP access to the hottest party in town, but better.
Nicki hinted that if the demand is wild enough, more dates and stops might just magically appear. It's like a tour that grows on demand, the first of its kind! Sign up, and who knows, Nicki might just show up at your doorstep with a mic in hand. Can we get an encore?
So, while we wait for the official tour dates and hope our city makes the cut, one thing is for sure—Pink Friday 2 is dropping on December 8, and it's gonna be the hottest thing since microwaved pizza rolls.
Here's a sneak peek at the cities where Nicki Minaj will be unleashing her fierceness during the Pink Friday 2 Tour:
Atlanta, Georgia
Austin, Texas
Boston, Massachusetts
Brooklyn, New York
Charlotte, North Carolina
Chicago, Illinois
Columbus, Ohio
Dallas, Texas
Denver, Colorado
Detroit, Michigan
Hartford, Connecticut
Houston, Texas
Las Vegas, Nevada
Los Angeles, California
Miami, Florida
Oklahoma City, Oklahoma
Philadelphia, Pennsylvania
Phoenix, Arizona
Portland, Oregon
Raleigh, North Carolina
Salt Lake City, Utah
Seattle, Washington
Toronto, Ontario
Milwaukee, Wisconsin
Minneapolis, Minnesota
Montreal, Canada
Nashville, Tennessee
Newark, New Jersey
New Orleans, Louisiana
New York, New York
Oakland, California
Vancouver, Canada
Washington DC
Amsterdam, Netherlands
Berlin, Germany
Birmingham, United Kingdom
London, United Kingdom
Manchester, United Kingdom
Paris, France
Get ready to laugh, dance, and slay because Nicki Minaj is coming to a city near you!
#PinkFriday2Tour https://t.co/gAqTChIyDE pic.twitter.com/S2Kht8thuU

— Nicki Minaj (@NICKIMINAJ) November 17, 2023