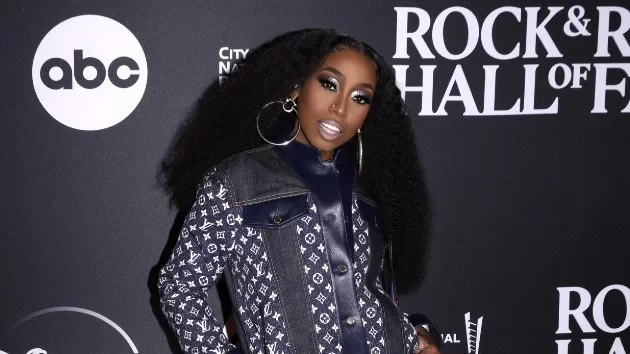 Missy Elliott just turned the music world upside down with her groundbreaking entrance into the Rock & Roll Hall of Fame! You heard that right, the one and only Missy, who's got more rhythm in her pinky finger than most of us in our entire bodies, has earned her spot in the hallowed halls of music history.
In this historic event, the 52-year-old icon strutted her way into the Rock Hall, becoming the first female rapper ever to achieve this legendary feat. And who better to introduce her than the incomparable Queen Latifah, her partner in rhyme and all-around cool buddy. Queen Latifah serenaded Missy with a heartfelt speech that could warm even the iciest of hearts.
As the stage was set, Missy seized the moment with an electrifying performance that left everyone gasping for air. She didn't just drop the mic; she sent it to another dimension with her mesmerizing talent.
Queen Latifah couldn't help but gush about how Missy's debut album, "Supa Dupa Fly," turned the music world on its head. She exclaimed, "Nothing sounded the same after Missy burst onto the scene. It's like she's a time-traveling musical wizard who accidentally stumbled upon our era. Missy is avant-garde without even trying. She's a trendsetter, and the rest of us are just trying to keep up!"
Not stopping there, Queen Latifah went on to emphasize Missy's courage in speaking out against misconceptions, stereotypes, and straight-up misogyny in the music industry. She praised Missy for bulldozing through the obstacles placed in front of women in the industry, and her message was loud and clear: "You can do everything and be a total boss at it!"
The stage was set, and it was showtime! Missy and her squad of dance maestros kicked things into high gear with an explosive medley of her hits: "Get Ur Freak On," "The Rain (Supa Dupa Fly)," "Work It," "Pass That Dutch," and "Lose Control." The audience had no choice but to get up and groove, even the ushers had their hands in the air.
Missy, with a twinkle in her eye and gratitude in her heart, took to the stage with a speech that made everyone go, "aww." She couldn't believe her luck to be in the same room as fellow inductees and rubbed shoulders with the greats.
She spoke about the universal language of music, reminding us all that we've got that one thing in common – the love for a good beat. Then came the tearjerker: Missy shared that her mother, yes, her very own mom, was in the audience and had never seen her perform live before. Now, if that doesn't tug at your heartstrings, we don't know what will!
And as if the moment couldn't get any more historic, Missy reminded us that it's the 50th anniversary of hip-hop. "This is different than me just being up here," she said, her emotions bubbling over. "To be standing here, it means so much to me." And we all collectively agreed, Missy, that it means the world to us too. Congratulations to the Queen of Cool!