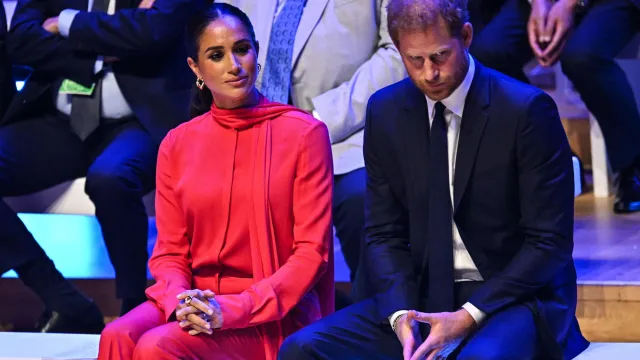 Prince Harry and Meghan Markle are on a quest to be as "normal" as royals can be. The scandalous revelation is that they've been spotted gallivanting around town for date nights and even hitting up concerts. You heard it right; they're just like you and me, but with a bit more bling and a crown collection!
So, after a wild night of dancing and swaying at a Katy Perry concert (Can you imagine Harry's dance moves?), and a romantic getaway to a Caribbean island, it seems they've decided to embrace their inner commoners. We can't blame them, really.
PR consultant Laura Perkes spilled the tea, claiming that the couple is simply trying to "have fun together." It's almost as if they realized that being a royal doesn't have to mean sipping tea with your pinky finger up all the time. Shocking, right?
"After a few turbulent years and those rumors that they were practically living in different dimensions not too long ago, it's a breath of fresh air to see them actually having a good time together," Laura shared with the Mirror. We couldn't agree more, Laura.
But wait, there's more! The pair is leaving their two little royal rascals, Prince Archie and Princess Lilibet, at home during their escapades. Gasp! But before you judge, hear us out. It's not that they're neglecting their parenting duties. It's just that they want to keep the romance alive in their relationship. You see, any couple with young kids knows that "date nights" are like oxygen – you need them to survive the chaos of parenthood.
According to Laura, "Harry and Meghan aren't exceptions to this rule. They're just like us, but with bigger bank accounts." She added, "They both seem really relaxed during these outings, which is the complete opposite of how they usually appear at those stuffy public events." Who can blame them? Put on your finest attire and stand around waving at crowds – not the ideal way to unwind.
And if you thought their concert choices were just random, think again. The power couple is BFFs with none other than Katy Perry and Orlando Bloom. Attending Katy's Las Vegas show was basically the royal equivalent of grabbing a coffee with your pals. So next time you're at a concert and you spot a regal figure busting some moves, just remember – it might be Harry showing off his dance prowess.