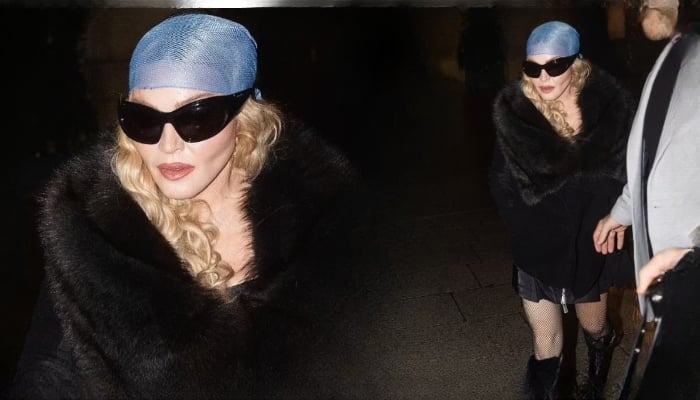 Madonna, eternal pop queen, is currently on a world tour with The Celebration extravaganza, and let me tell you, she's not just making appearances – she's unleashing a fashion hurricane!
Picture this: Saturday night, Ritz Hotel in Paris. Madonna struts out like she owns the place, and what's stealing the show? A blue net headscarf, because why not? Who says fishing gear can't be fashion-forward?
At 65, this pop icon proves age is just a number. Wrapped in a long black fur coat that probably has its own VIP section, Madonna flaunts a mini dress and fishnet tights that scream, "I don't do basic."
She's not just stopping at a fur fortress; she's rocking edgy black lace-up knee-high boots. Because why settle for ankle boots when your knees need attention too?
Let's not forget the pièce de résistance – bold black sunglasses that shout, "I'm too fabulous for regular eyewear." It's like she's auditioning for a superhero movie where the power is looking absolutely fierce.
And what's this about heading to the Opera De Paris? Rumor has it she's filming a new music video, or maybe she's just there to teach the opera folks a thing or two about high notes and even higher heels.
Just before her sold-out concert at the Accor Arena, Madonna decided to treat us to a photodump of her Parisian escapades. Because when you're Madonna, every moment is a photo op, and every outfit is a statement. Move over, Eiffel Tower, there's a new icon in town, and she wears fishnets like nobody's business!