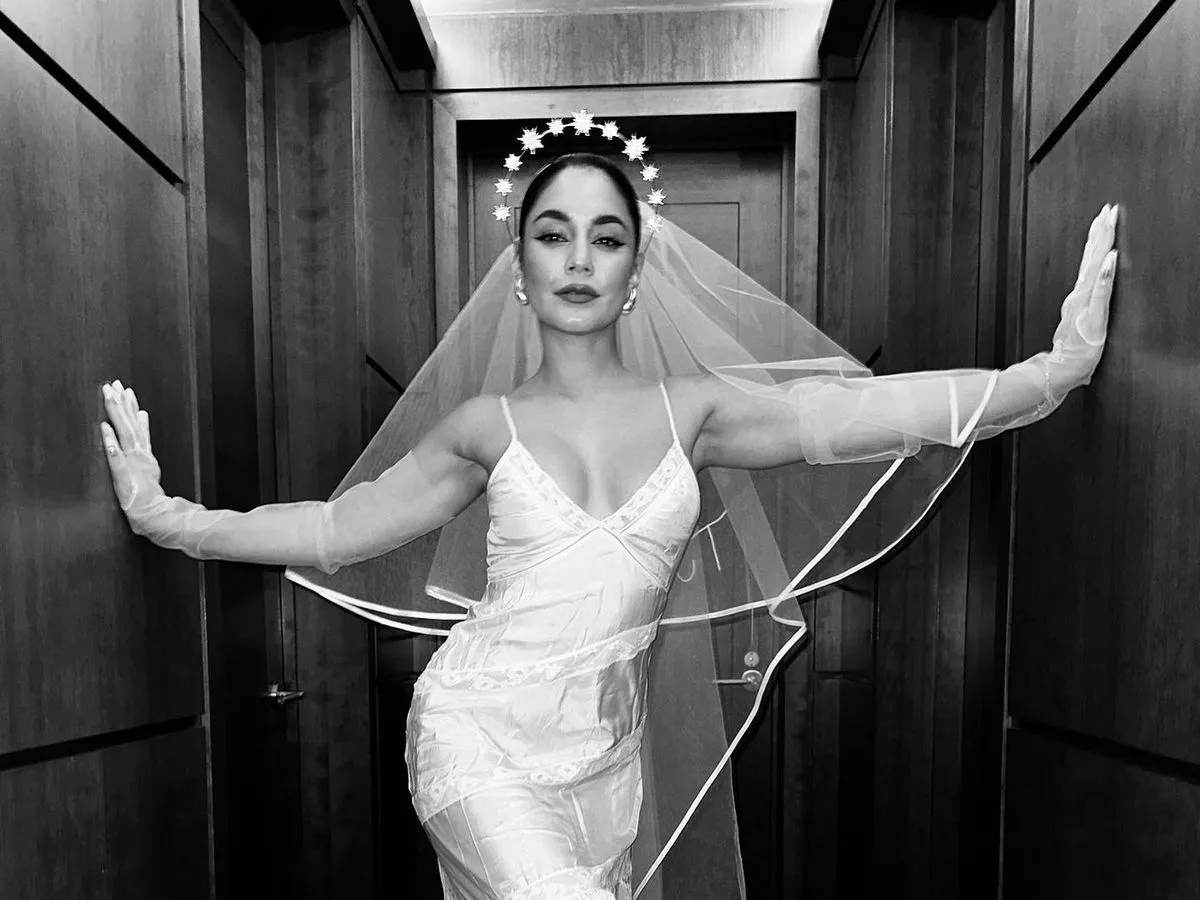 Vanessa Hudgens is in full-on wedding mode, and she's doing it with more flair than a Broadway musical in a cheese factory! The 34-year-old High School Musical extraordinaire has been bombarding our social media feeds with pics of her pre-wedding shenanigans that are so lit, they might as well be set on fire.
On a fateful Thursday (October 26), she dropped a bombshell on the internet – her pre-wedding party was all about Halloween vibes, and not just any Halloween vibes but "Corpse Bride" vibes. You heard that right! Vanessa was channeling her inner undead romantic with a customized veil, which, of course, had the initials "VH [heart] CT" stitched onto it. It's like she's staking her claim on her man's last name before the ink's even dry on the marriage certificate.
And the bride-to-be wasn't stopping at just the veil. Nope, she went full-on bridal mode with a white dress that was as bridal as a wedding cake at a bakery opening. She even added a crown of stars because, you know, when you're marrying the love of your life, you might as well be the queen of the universe!
But Vanessa wasn't walking down the aisle of life alone. No siree! She was surrounded by her posse of pals who looked like they were auditioning for a goth boy band. Vanessa's sister Stella was there, of course, along with the fabulous Sarah Hyland, Alexandra Shipp, and the one and only Hamilton star Morgan Marcell. This party was so star-studded; you'd think they were auditioning for a sequel to the Corpse Bride movie!
Now, some gossip-loving folks might say that Vanessa's been living it up lately, considering she recently had a bachelorette party in the mountains of Aspen, Colorado. But she's got no time for rumors. In fact, earlier this week, she set the record straight, declaring, "I'm not pregnant, folks!" Yep, she's just here for the wedding cake, the custom veils, and the stars on her head – no room for baby bumps in this Corpse Bride extravaganza! 🎃💀👻💍🍰