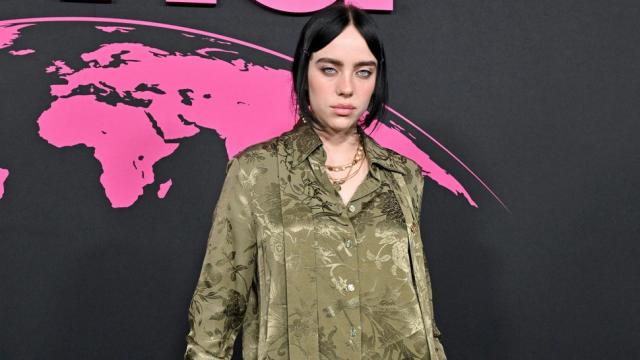 Billie Eilish, the 21-year-old "What Was I Made For" pop sensation, is here to unravel the enigmatic enigma that is her oversized outfits. You know, those billowy garments that made her as famous as a cat video on the internet – and perhaps just as confusing.
People have been giving Billie a hard time, calling her a "sellout" for occasionally opting for outfits that don't resemble a potato sack. But fear not, for Billie is about to drop some truth bombs on this sartorial mystery.
In a recent chat with Variety, Billie spilled the beans on her fashion choices, and it's like a twist ending to a blockbuster movie – totally unexpected.
Billie confessed that her decision to wear outfits big enough to hide a small army was not solely to avoid being the eye-candy of the century. It was more profound than that. She didn't want anyone to have a sneak peek at her body, even visually. Nope, no sir. She wasn't feeling strong or secure enough to flaunt it, and she sure as heck wasn't ready to face the trolls of the internet. Can you imagine the horror of mean comments? Gasp So, Billie put on her fashion armor and said, "No, thank you!"
And she's got an explanation that'll make you snort with laughter. Billie confessed, "Maybe my nonchalant attitude about being sexualized is because I've never felt like a Victoria's Secret model. I've never been desired or desirable." You tell 'em, Billie! Confidence is key, but so is comfort, and she wasn't about to compromise either.
Billie then takes the conversation to her unique physique. "I have big boobs," she proclaimed proudly, "I've had 'em since I was nine, and that's just how I roll." Well, there you have it, folks – Billie's got it all, and she's not afraid to say it.
Billie isn't finished yet. She's got a bone to pick with society's double standards. "You wear something even remotely revealing, and everyone's like, 'Oh, but you didn't want people to sexualize you?' Well, let me tell you, you can take that and park it where the sun don't shine!" Billie's not holding back – she's a being that is sexual sometimes, and she's not apologizing for it. She's flipping the script and asking why nobody ever says a word about men's bodies.
According to Billie, guys can be muscular, slender, dad-bod'd, or pudgy, and people are chill with it. Why? Because girls are nice. We see people for who they are, not for the shape of their butts or the size of their biceps. So, let's all just be cool like Billie and embrace the glorious variety that is the human form, shall we?