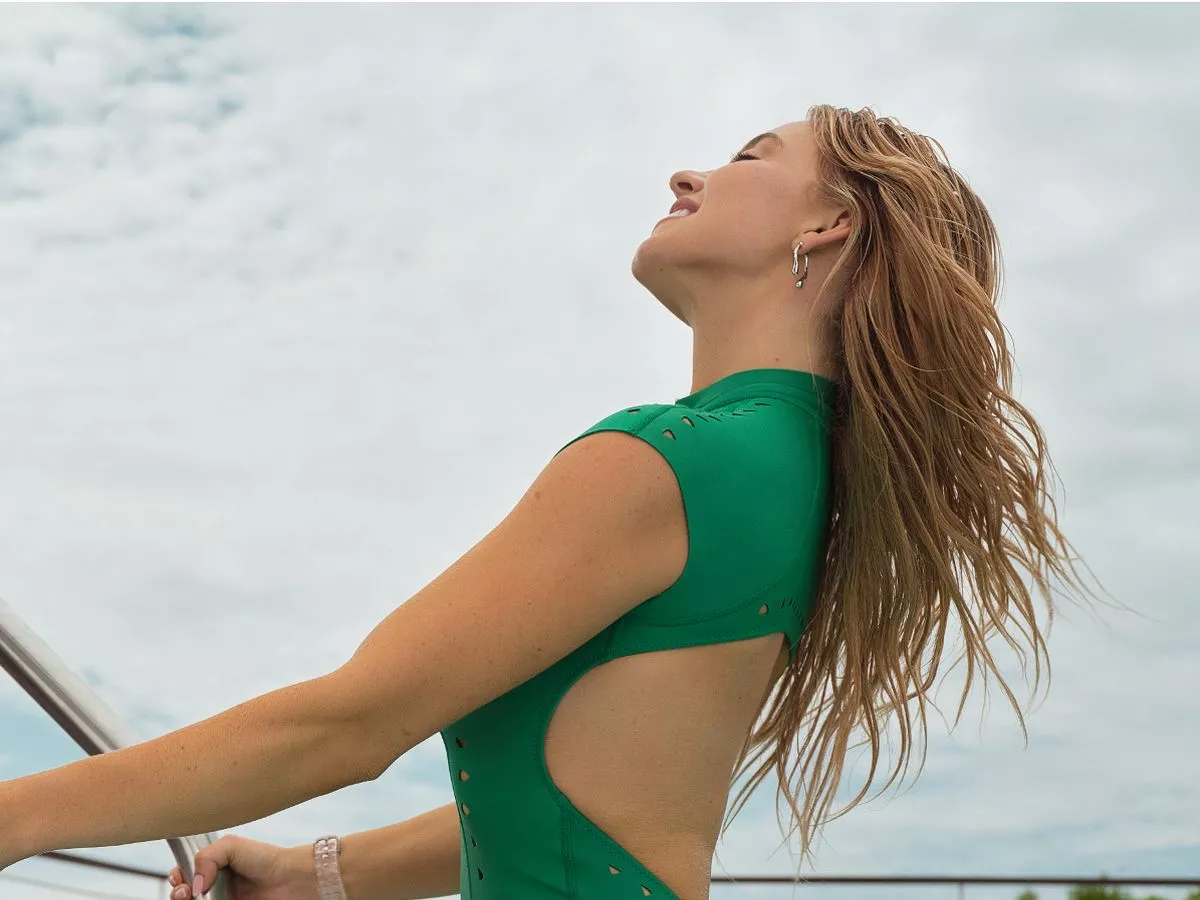 Sydney Sweeney decided to take a little Aussie escapade, and the 26-year-old Euphoria star made sure her Instagram fam got the full scoop on her vacay shenanigans. Decked out in a jaw-dropping green one-piece that screamed, "I'm on vacation, and I'm fabulous," Sydney embarked on a river adventure that she showcased in her latest post on November 21. Captioning her carousel with a cheeky "Sweet home Australia," Sydney had us all wishing our homes were that cool.
The first pic in her saga was a classic selfie featuring Sydney and a buddy striking their best "we're living our best lives" pose. The second slide, though, was the pièce de résistance—a video of Sydney, the Madame Web sensation, daringly sliding down a rock slab into a river. Move over, action heroes; Sydney's in town, turning nature into her personal water park.
As if that weren't enough, she treated us to snapshots of the breathtaking scenery, showcasing everything from vast open fields to a glimpse of the mighty Pacific. And just when you thought it couldn't get better, Sydney cranked up Lynyrd Skynyrd's "Sweet Home Alabama" during a drive, proving that this girl knows how to have a good time Down Under.
Sydney's love for adventure isn't news; she's always up for a physical challenge, whether it's sliding down rocks or conquering water ski slopes. In a recent chat with Women's Health, she spilled the beans on her love affair with waterskiing, tracing her adrenaline-junkie roots back to her early years.
"When faced with a new challenge, and I'm not afraid to give it a shot, that's when I feel like a total rockstar," says the Emmy Award nominee. She spilled the tea on how her mental game is the real MVP, be it in skiing, acting, or any other venture. "It's always more mental than physical. Sure, you've got to train, but it's all mind over matter."
Describing the physical demands of water skiing, Sydney breaks it down, saying it's a full-body workout that leaves you feeling like you just ran a marathon. Yet, she insists it's not a workout because, come on, it's too much fun to be called that. The results? Killer arms, rock-solid abs—basically, the dream physique without the treadmill misery.
But hold up, because for Sydney, strength isn't just about flexing muscles. In her Women's Health cover video, the Once Upon a Time … in Hollywood star declared that strength is synonymous with confidence and overall well-being. "It's about being a strong person, standing up for yourself, and having kick-ass friendships," she quipped, emphasizing that strength is a multi-faceted gem.
Growing up as a sports maniac taught her confidence, respect, and patience—oh, and the joy of kicking some serious butt. So, while Sydney's out there conquering rivers and breaking stereotypes, the rest of us are just trying to keep up with her awesomeness from behind our screens. Cheers to you, Sydney Sweeney, for turning Australia into your personal playground! 🌊🤘