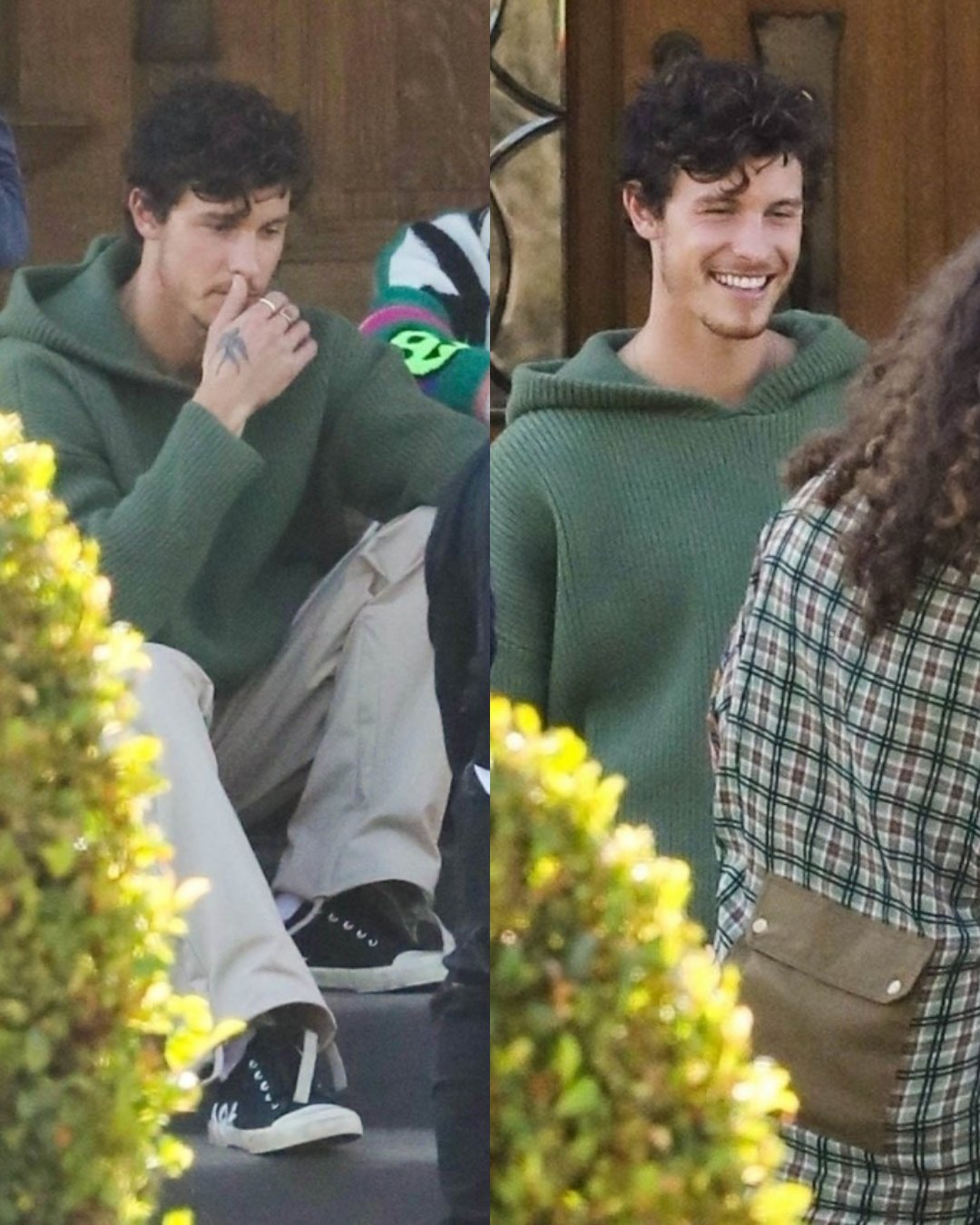 Is Shawn Mendes cooking up a musical masterpiece, or is he just trying to set a new record for the world's longest hiatus from making tunes? It's been a whopping three years – that's 1,095 days, 26,280 hours, or 1,576,800 minutes – since the 25-year-old wonderboy dropped his last album, "Wonder." And if you thought he was busy counting down those minutes, you're wrong, because he surprised us earlier this year with a single titled "What the Hell Are We Dying For?" Classic Shawn, always asking the existential questions when we least expect it!
The pop sensation has suddenly reemerged from his cocoon of silence, and it's like a unicorn sighting! We caught a glimpse of him on the set of a mysterious new project in the City of Angels on Saturday, October 28. And if you're wondering what he was up to, well, so are we!
In these covert photos from the set, Shawn was seen doing what any self-respecting pop superstar does when caught in the wild – hanging out with a posse of pals and grinning like a Cheshire cat who just discovered the biggest ball of yarn in the world. He was sporting a knit green hoodie, which was the latest in fashion-forward outerwear for folks who dare to venture into the wilds of Los Angeles. Paired with khakis and black shoes, he looked like he was ready to star in his own remake of "Jurassic Park: The Musical."
Shawn's fashion show didn't end there. He decided to play strip-tease with his outfit, removing the sweatshirt and revealing a white tank top. It was like a surprise party for his tattoos, which finally got the spotlight they deserved. And we must admit, they looked pretty darn excited about it. We could almost hear them saying, "Thank you, Shawn! We've been waiting for our moment of fame!"
And let's not forget about his hair, because it's a masterpiece in itself. His curly locks were perfectly coifed, and we suspect there might be a dedicated team of hair artists hidden nearby, ready to touch up any rogue curls. Plus, he was rocking a bit of scruff, just to prove he's not all about the pristine, clean-cut image. It's like he was saying, "I can do 'dashing' and 'rugged' all at the same time."
So, is new music on the horizon, or is Shawn Mendes just trolling us? It's been a while since we last heard from this musical maestro, but one thing's for sure – he's been making the most of his downtime, turning it into a full-blown fashion and fun fest. Only time will tell if he's ready to grace us with his melodious magic once more, but for now, we'll be over here, eagerly awaiting the next Shawn Mendes spectacle!