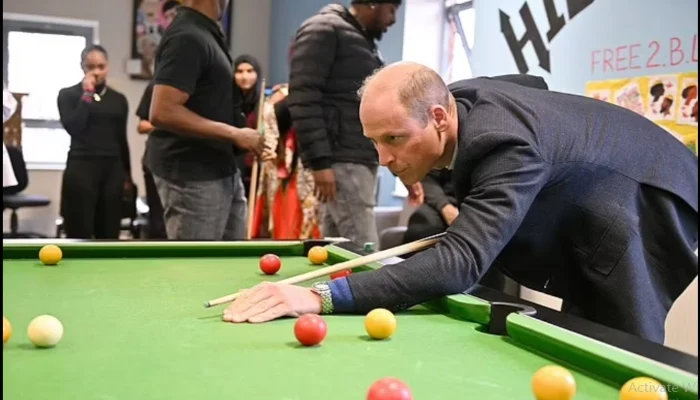 Prince William, the pool prodigy, took a break from royal duties to hustle some balls at a Manchester project tackling youth violence. Because what better way to address serious issues than sinking the eight-ball like a boss?
Decked out in an all-navy ensemble that screamed, "I'm here to shoot pool and take names," the 41-year-old royal dazzled Moss Side with his laid-back charm. Picture this: a casual blazer, trousers that said, "I mean business but also fun," a jumper in the shade of cerulean blue that probably has its own royal title, and brown suede shoes fit for a prince on a mission (to conquer the pool table).
Amidst the chaos of The Crown dropping episodes depicting Princess Diana's final moments on Netflix, our Prince Charming decided to show his face at The Hideaway Youth Project. Talk about timing! Because what's a better distraction than a royal in navy casually sinking balls into pockets?
As the cue ball rolled, Prince William exchanged banter with volunteers and posed for pictures with the cool kids at the center. Rumor has it he even gave a masterclass on how to shoot pool while looking effortlessly regal. Move over, snooker legends – there's a new royal cue maestro in town.
And let's not forget the collaboration of the century: Prince William and Greater Manchester Mayor Andy Burnham joined forces, throwing £100,000 into the ring to tackle youth violence. It's like Batman and Robin, but with less capes and more philanthropy.
In between shots, our Prince took a moment to delve into the Manchester Peace Together Alliance's work, generously greasing the wheels with a £50,000 donation from his Royal Foundation. Because when life gives you a cue stick, you make a difference – or something like that.
Prince William, the pool-playing philanthropist, taking on youth violence one pocket at a time. Move over, Netflix drama – there's a new show in town, and it's called "The Royal Rumble: Cue for Change."
📸ROYAL•VISIT📸
Trust Jai to ask for a selfie!
Grateful to @KensingtonRoyal for their support of our Peace Alliance & In Our Words projects 👑 #oddarts pic.twitter.com/E4tv5Riw8O

— Odd Arts (@OddArtsUK) November 16, 2023