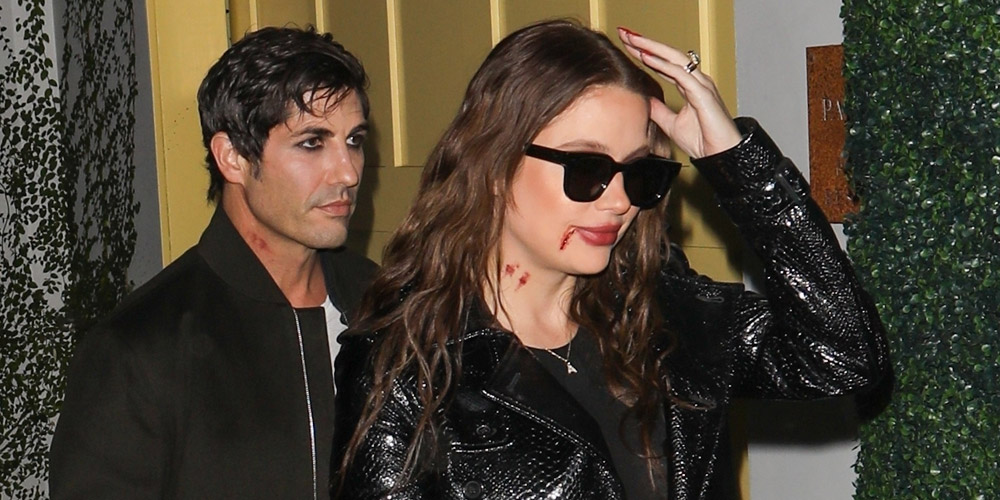 Ashley Benson was like, "Vampires, assemble!" as she and her soon-to-be hubby, Brandon Davis, took the Halloween festivities by storm in Los Angeles. This 33-year-old Pretty Little Liars superstar made a public appearance, showing off her baby bump, just when everyone started to wonder if she was growing a little vampire inside!
Now, let's talk costumes. These two didn't just dip their toes into the spooky pool; they cannonballed right in. Ashley, in her all-black ensemble, was like a walking "B Negative" blood bank advertisement. Blood trickled down her lip like it was a strawberry smoothie gone wrong, and she even had those unmistakable puncture marks on her neck. It's like someone tried to turn her into a juice box – vampire style.
Brandon, not one to be outdone, brought his A-game with a dark, smokey eye that probably could've blacked out the sun. Together, they looked like they were auditioning for the next season of "Twilight: The Sequel Nobody Asked For."
In case you missed the memo, Ashley and Brandon are engaged, and it's a love story that started in February. Who knew that February could be so romantic? With Halloween in the air and a baby on the way, these two are living a gothic fairytale – vampire puncture marks and all!