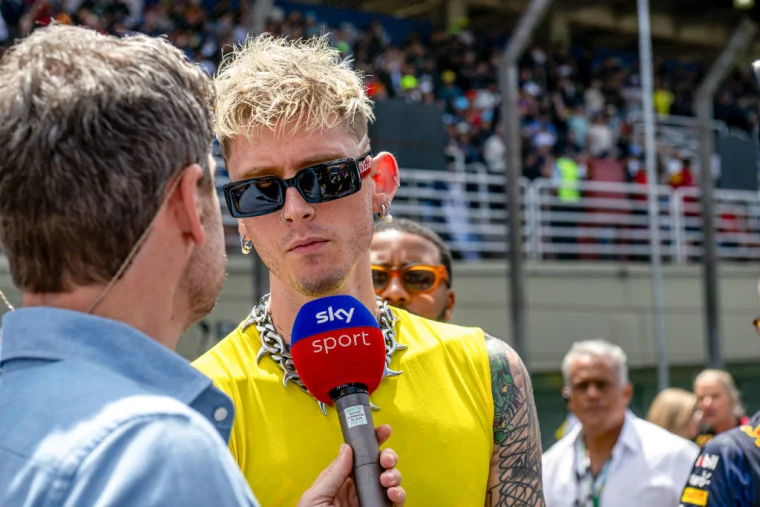 Picture this: 33-year-old rapper, Machine Gun Kelly, decides to grace the Brazilian Grand Prix in São Paulo with his presence. Little did he know, he was about to become the star of the show in ways he never imagined. During an interview with the legendary Martin Brundle, our dear MGK couldn't resist the urge to fiddle with Brundle's poppy pin, as if it were some sort of mystical artifact. To add to the comedy gold, he nonchalantly admitted that he had absolutely no clue what Martin was blabbering about. Priceless!
Now, when asked to spill the beans about his illustrious career, MGK had a response that would make even the most seasoned stand-up comedians jealous. He deadpanned, "I don't think about my career." Oh, the irony! Someone hand this man a trophy for the most epic mic-drop moment in the history of interviews.
But the comedy didn't stop there. After the interview made its way to the internet, MGK couldn't help but wonder why someone thought it was a brilliant idea to post that "pointless video." We feel you, MGK, we really do. It's like when you're trying to enjoy a fine dining experience, and the waiter decides to serenade you with a kazoo solo – utterly baffling.
Our fearless rapper also decided to take on some social media critics. One brave soul dared to call his vibe "the worst," to which MGK clapped back like the rap-savvy superhero he is. He argued that he's not "the worst" just because someone shoved a microphone in his face, making him the unwilling star of a spontaneous interview. And let's not forget the roaring engines of the F1 cars, which made it a genuine miracle that he heard anything at all. A classic case of misjudged vibes.
In an ultimate plot twist, it seems the whole F1 interview shenanigan got the best of MGK. He shared on Twitter that his anxiety had emerged victorious, and he now hates being in public. You can't blame him; after such a comedic spectacle, who wouldn't want to hibernate in a fortress made of fluffy pillows?
my anxiety has won. i hate being in public.

— blonde don (@machinegunkelly) November 5, 2023