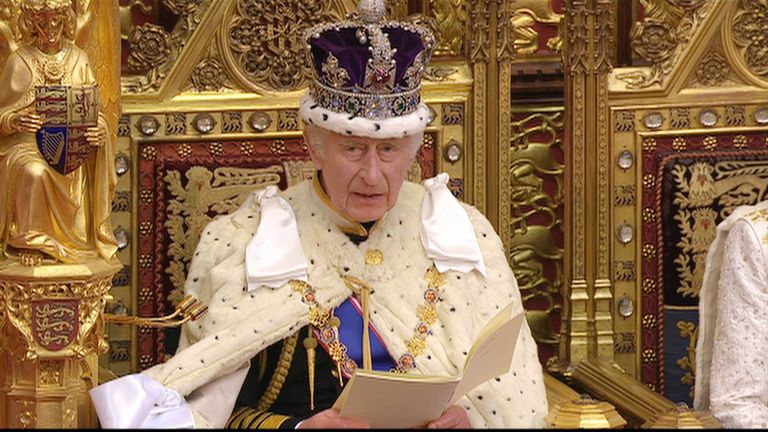 King Charles has just waltzed into the State Opening of Parliament like it's a comedy show open mic night, marking the first time a king has done so in over seven decades! Move over stand-up comedians, we've got royalty dropping the punchlines now.
Armed with more paper than a stationery store, His Majesty presented a laundry list of rules and regulations the Tories have cooked up for the next parliamentary round. It's like a shopping list for a political potluck, and we're all invited to this legislative feast.
And guess what? Britain's Prime Minister, Rishi Sunak, finally found his way to No. 10 and decided to throw his own legislative bash! Better late than never, right? He's like the guy who shows up at the party just as the cake is being cut.
But before we dive into the nitty-gritty of it all, King Chuck decided to start with some heartfelt words for his dear old mum, the late Queen Elizabeth II. How touching! He then segued into the country's greatest hits, the hits being COVID-19 and the Ukraine war, dubbing them "significant long-term challenges." Yeah, because battling a pandemic and international conflicts are just a walk in the royal park, right?
In a move that could've been sponsored by inflatable crowns, the Government pledged to tackle inflation, ensuring that the kingdom's financial stability doesn't turn into a royal mess. "My ministers will also be working on strengthening education for the long term," the speech declared. They're planning to cram so much knowledge into young minds that it'll be bursting out of their ears. Get ready for the Advanced British Standard – a degree that's so advanced, it's practically in the future.
King Chuck promised to turbocharge the economy with bills that make trade and investment as easy as sipping tea. And if you've ever wondered what the royal stance is on welfare, wonder no more. It's all about helping people find work, keeping the Union united, and knitting the social fabric of the United Kingdom. They might as well throw in some tea cozies for good measure.
The healthcare sector wasn't spared from King Chuck's comedic repertoire. He's on a mission to shorten waiting lists, beef up the healthcare workforce, and transform mental health services. It's like a royal makeover for your well-being.
And just when you thought the laughs were over, they hit you with a ban on selling smokes to kids, so we can all look forward to a future where every child in the kingdom is part of a smoke-free generation. In a plot twist that's better than any soap opera, housing market reforms were introduced to make it easier for leaseholders to buy their freehold and combat those pesky exploitative service charges. Who knew property management could be this hilarious?
But King Chuck's not done yet. He's building a national Holocaust Memorial and Learning Centre, showing anti-Semitism that it's about to face a royal smackdown. And if you thought we were done, think again. Legislation to protect civilians from terrorism, safety from crime, and boosting security and intelligence services to fend off new threats is also on the royal agenda.
A day at Parliament, where King Charles became the monarch of mirth, and we all got a dose of legislative comedy. Who needs stand-up when you have a king like this?