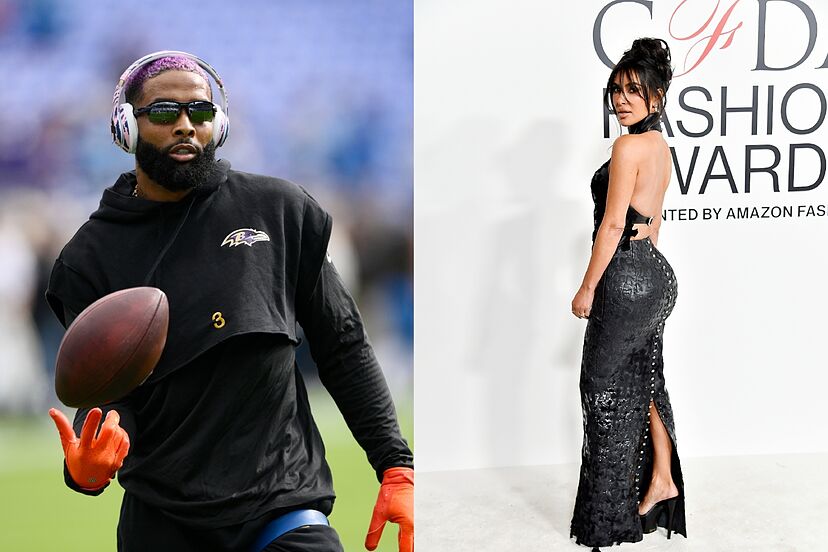 Kim Kardashian caused quite a commotion at Odell Beckham Jr.'s birthday bash in the Big Apple on Monday, rocking a black leather dress that had more people turning their heads than a confused owl at a disco.
But wait, before you jump to conclusions, this flashy appearance doesn't just hint at her sense of style; it's also fueling juicy rumors that she's been "hanging out" with the wide receiver lately. Oh, Kim, you sly dog, you!
The 43-year-old Kardashian starlet, like a quick-change artist on steroids, magically transformed from her skin-tight black Chrome Hearts dress she donned for the CFDA Fashion Awards on the same night. That red carpet number had some fancy embossed cross design going on, kinda like a vest top and a long skirt combo.
Now, here's where the party begins, literally! Her birthday party outfit was like the evil twin of her awards appearance. Gone was the high neckline, and in its place, there was a plunging, lace-up front that could give the Grand Canyon a run for its money in the depth department.
For the '90s-themed shindig at WSA, the Skims founder decided to layer on two necklaces that were so blindingly brilliant they could double as emergency beacons for lost partygoers. One of them even boasted a string of shimmering diamond crosses that dangled like a disco ball over the dance floor.
And, hold your horses, because it gets better. Kimmy K accessorized her edgy birthday party ensemble with Pleaser heels that were a staggering 7 inches tall and clear as day – just in case anyone needed a magnifying glass to admire her fancy footwear. Her hair was piled up in an elegant updo, because let's face it, with those heels, a high bun is practically a must for maintaining balance.
Now, let's not forget the man of the hour, Odell Beckham Jr. himself. On his special day, this 31-year-old wide receiver for the Baltimore Ravens went all out, channeling his inner leather enthusiast. He decided to go shirtless beneath a black leather vest that made him look like a walking, talking rockstar. To complete his look, he threw on silver sunglasses and a pair of black leather pants that screamed, "I'm here to party, and I'm looking fabulous!"
A birthday bash that was so flashy and fabulous that it could make even the disco balls green with envy. Kim and Odell's party style was truly a sight to behold, and we can't wait to see what other fashion antics these two get up to next.
Social Update: Kim Kardashian Attends Odell Beckham Jr.'s Birthday. Kim Kardashian had a busy trip to NYC, also stopping in at Odell Beckham Jr.'s 31st birthday bash … after TMZ confirmed they had started "hanging out" thanks to… https://t.co/cFQuz9s6Lb #tmz #theartsandus pic.twitter.com/9KUcu21l3x

— From the city to the suburbs (@CenterStageEvnt) November 7, 2023