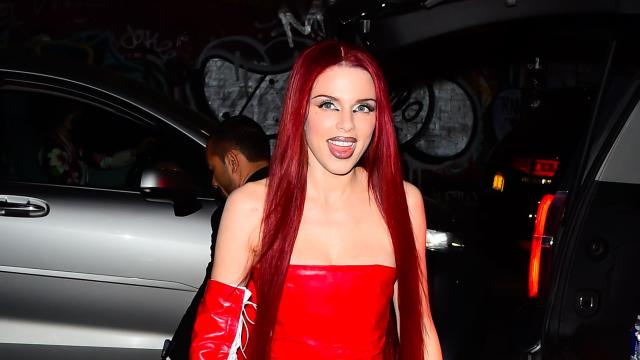 Julia Fox turned New York City into her personal runway this week, and boy, did she serve up some unforgettable fashion moments!
The 33-year-old actress, author, and all-around style icon strutted her stuff at the Room to Grow's 25th-anniversary gala on Wednesday, and let me tell you, she was as radiant as a disco ball at Studio 54. Ditching the traditional red carpet attire, Julia sported a head-turning auburn hairdo, and those curls were so tight, even Slinky toys would be jealous.
But the hair was just the appetizer, folks. For the main course, she rocked a fur jacket that screamed, "I'm fabulous, and I don't care who knows it." And her dress? Oh, that dress was a sight to behold. It had more cutouts than Swiss cheese, and they spiraled up her body like a rollercoaster of fashion daring. From the waist down, she showcased so much skin that even the most courageous sunbather would blush!
The next day, Julia decided to turn the heat up a notch by donning another scarlet ensemble, this time paired with thigh-high, white lace-up boots. I mean, who needs a fire in October when you've got Julia Fox setting the city ablaze with her fashion choices? Her hair was sleek and straight this time, and if you didn't want to run your fingers through it, you're lying. She accessorized with an armband so dramatic it could probably star in its own soap opera, and her white bag? It had a flail printed on it because, well, every outfit deserves a medieval weapon accessory.
In a world full of fashion clones, Julia Fox is our fearless, fiery, and fabulous leader, reminding us that style should always be as audacious and unpredictable as life itself.