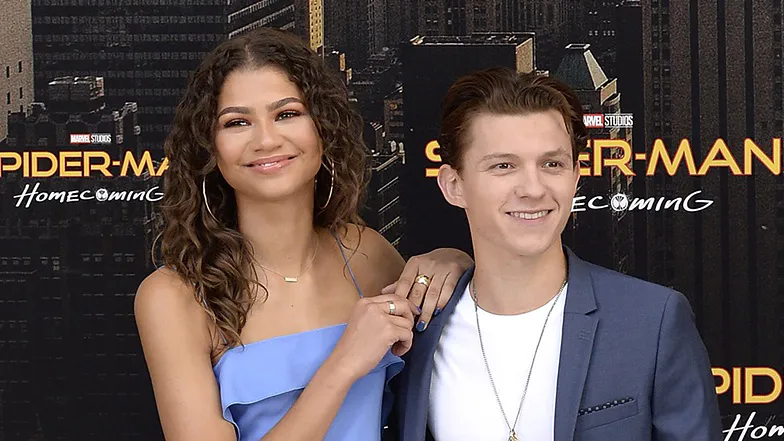 Zendaya and Tom Holland are back at it again with a rare selfie that's got us all tangled up in their web of cuteness!
In this snapshot posted by the one and only Arthur Pangani, who we all know is an ex-Tweeter turned X user (what's up with that mysterious X?), Zendaya and Tom are casually slaying the dating game. No red carpets, no fancy soirées – just a cozy date night out.
Tom, the heartthrob that he is, flashed a smile that could melt icebergs, probably thanks to his black sweater. Meanwhile, Zendaya, being the effortlessly gorgeous queen that she is, was rocking a tan sweatshirt with her hood up and not a scrap of makeup in sight. Who needs makeup when you're Zendaya, right? These two were the living definition of couple goals, snuggling up for the camera. Arthur was lucky enough to be in the right place at the right time and snapped this gem, dubbing himself "graced and surprised" by the presence of "two excellent actors."
And just when you thought it couldn't get any better, our insider (Arthur, we're looking at you) spilled the beans that this photo was taken just before Halloween. But wait, why didn't he want to "create a frenzy"? Was he afraid the paparazzi would descend upon them like a horde of hungry vampires? Or maybe he was just trying to give the couple some breathing room, allowing them to savor their Northern California escapade. We may never know.
In the comment section, Arthur went on to describe the scene, mentioning that the two were "covert and chill" and, most importantly, "definitely had eyes for each other." Well, Arthur, if they didn't, I think the world would've turned upside down!
Now, let's rewind a bit. Zendaya and Tom first crossed paths back in 2016 while filming "Spider-Man: Homecoming." They played Peter Parker and MJ, the ultimate on-screen couple. But it turns out, they didn't just have chemistry on set; they also hit it off in real life. In 2017, rumors of them dating started swirling, but they insisted they were just BFFs. Yeah, right!
Zendaya had a brief fling with her "Euphoria" co-star Jacob Elordi in 2020, while Tom had his own thing going on with Nadia Parkes that same year. But the plot thickened in July 2021 when a photo surfaced of Tom and Zendaya locking lips at a red light in Los Angeles. Talk about a traffic jam we wouldn't mind being stuck in!
These lovebirds aren't ones to plaster their romance all over social media, no siree. They're like the secret agents of celebrity couples, guarding their love like it's a national treasure.
Tom put it best when he said, "Our relationship is something that we are incredibly protective of and we want to keep as sacred as possible." So, let's all raise our glasses (or web-shooters) to this adorable, low-key couple, living their best lives while we impatiently wait for more of their rare sightings!
Zendaya summed it up perfectly when she mentioned, "I am navigating it more than ever now." Yes, Zendaya, we're all navigating the minefield of love and fame right along with you. Here's to more covert date nights and even sneakier selfies from our favorite superhero couple!
Zendaya and Tom Holland in newly shared photo. pic.twitter.com/82iPQ0Q6GZ

— Pop Crave (@PopCrave) November 4, 2023