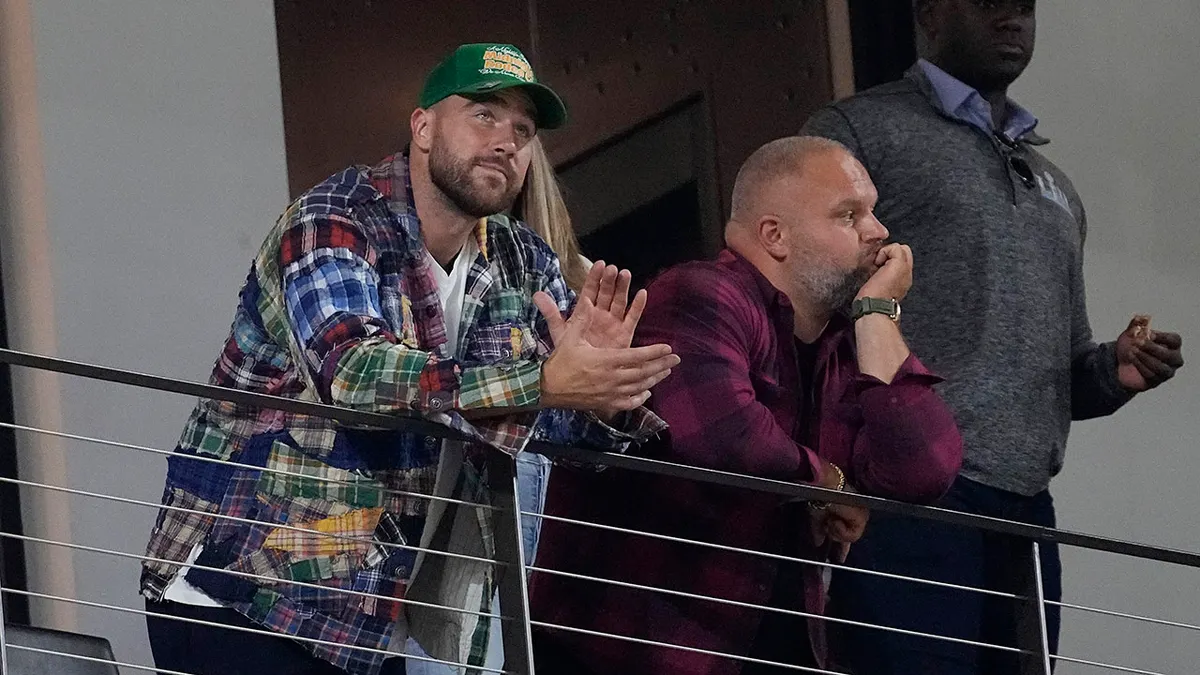 Travis Kelce, the man of the hour at 34 years young, took center stage to cheer on his superstar girlfriend, the ever-youthful Taylor Swift at the World Series game 1. It was a showdown between the Texas Rangers and Arizona Diamondbacks, and it all went down at the larger-than-life Globe Life Field stadium in the one and only Arlington, TX. The scene was set, and Travis was ready to make a spectacle of it!
With the enthusiasm of a cheerleader at a caffeinated pep rally, the Kansas City Chiefs' tight end brought the dance moves. He transformed the ballpark into his own personal dance floor as he grooved to Taylor's 2014 hit sensation, "Shake It Off." And oh boy, did he shake it off! The crowd watched in awe as Travis unleashed his inner dance sensation, flashing a grin that could outshine a stadium's worth of floodlights. His arms swayed from side to side, performing the sacred ritual of the Taylor Swift boogie.
Now, there's visual evidence of this glorious spectacle. In the footage that's going to make the highlight reel of our hearts, Travis donned a casual ensemble, featuring a rainbow-colored plaid shirt that could make even the most psychedelic kaleidoscope jealous. He crowned his fashion statement with a green and yellow baseball cap, proudly displaying "Midnight Rodeo Co." on the front. Who knew Travis was the fashion maverick we'd all been waiting for?
Travis wasn't content with just one dance number. He brought out his finest moves to Taylor's 2008 classic "Love Story." A video surfaced, capturing Travis's post-game party prowess. As the Rangers clinched victory against the Diamondbacks, he decided to keep the Taylor-themed party going strong. It's safe to say he embraced the theme with all the grace and enthusiasm of a professional dancer. He even took a video of his own antics, sealing the moment in digital eternity.
Now, let's get to the mushy part. Travis's affectionate antics come hot on the heels of reports that his love story with Taylor is progressing faster than an express train on a sugar rush. Insiders spilled the beans to PEOPLE, sharing that their romance is getting "more serious" by the day. Apparently, they share a strong work ethic, an appreciation for life, and family values that rival the Brady Bunch. A source even described Travis as "sweet, goofy, and just a blast to be around." Who wouldn't want to date the life of the party?
In their recent hangouts, the paparazzi have had a field day capturing moments that make us all say, "Aww!" Hand-holding, cheek-kisses, and adorable snapshots have become the norm. They say a picture's worth a thousand words, but these pictures are practically novels of love.
As if the lovey-dovey moments weren't enough, Travis has apparently upgraded his living situation to a mansion in a gated community in Kansas City, MO. All in the name of "privacy," they say. With a love like this, you might want a moat and drawbridge to keep the world at bay!