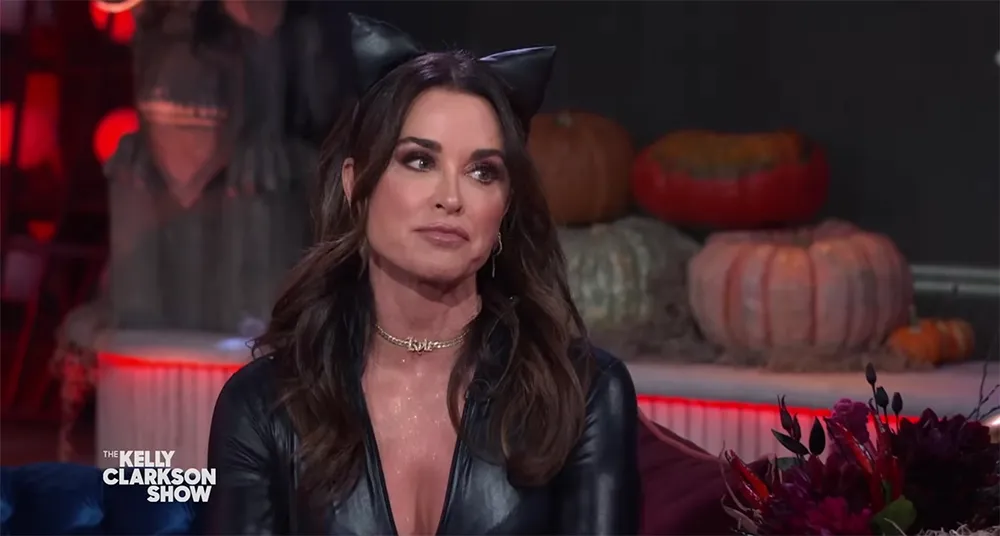 Kyle Richards' $8 million California mansion has become the talk of the spectral town, and she's got some eerie tales to share.
In a spine-tingling appearance on The Kelly Clarkson Show's Halloween special, the Real Housewives of Beverly Hills star dropped a paranormal bombshell. The TV host, with that signature inquisitive glint in her eye, asked Kyle, "Do you believe in supernatural stuff? Like, have you ever seen ghosts?" Kyle, in her most ghostly whisper, replied, "Oh, come over to my house."
According to Kyle, her Encino abode is a ghostly gathering spot, especially since her mother, Kathleen Richards, passed away in 2002. "I've lost both my parents, and I've had some things happen," she confessed. "Like a lot of things happen, especially after my mom passed away."
Picture this: lights flickering on mysteriously where they weren't even plugged in, and other unexplainable oddities. Kyle, the ghostly detective, added, "And then my house that I live in now was built in 1882 and moved by trolley in 1912. And I hear footsteps a lot. Every one of my family has heard the footsteps." Casper, eat your heart out!
But that's not all. The reality TV personality dropped another spectral bombshell – Smokey Robinson, the legendary crooner, had once owned her property. He apparently had a knack for stirring the supernatural pot. Kyle recounted, "He said, 'Oh, have you heard the footsteps yet?' I did not need to hear that. I wanted to believe that I was imagining it. But the funny thing is it feels safe though. It's, like, a good spirit."
So, what's the deal with this haunted mansion? Kyle and her ex-husband, Mauricio Umansky, made the chilling purchase back in 2017. This ghostly manor boasts eight bathrooms and seven bedrooms spread across a whopping 10,600 square feet. It's not your everyday fixer-upper; it's a spooky spectacular! Who you gonna call? Kyle Richards, the real estate ghostbuster extraordinaire!