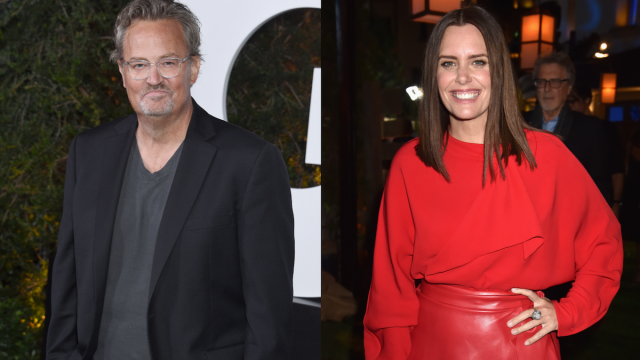 Actress Ione Skye spills the beans on the epic final text convo she had with the late, great Matthew Perry – yes, that Chandler Bing guy. It all went down on October 15, a mere 13 days before the universe lost one of its funniest inhabitants.
The two of them were once co-stars in the cinematic masterpiece known as "A Night in the Life of Jimmy Reardon," released back in the dinosaur era of 1988. Believe it or not, that was Matthew's big-screen debut – and oh boy, what a way to kick off a career.
In this riveting October 15 exchange, Mr. Perry kicked things off with a dash of zen: "Hi! I hope all is well. I was meditating (I meditate now) and 'In Your Eyes' started playing. And I instantly thought of how beautiful you are." Yes, he went all namaste on us and reminisced about their on-screen romance. Is there anything this guy can't do?
Ione wasn't about to let this heartfelt moment pass by without a response, and she typed back, "Awe. I love that. Xo." Smooth move, Ione. Matthew, still channeling his inner yogi, chimed in with, "Hope you are healthy and happy." Clearly, he had transcended the bounds of earthly concerns.
The exchange took a nostalgic turn when Ione shared, "I only have nice memories with you." Matthew, with his signature charm, replied, "Me too. That one afternoon, I was just sitting in my apartment, and there you were!" Spontaneous nostalgia – a classic Chandler move.
The cherry on top? Ione couldn't resist showing the world this bittersweet conversation, and she posted it on her Instagram with the caption, "My last exchange a week ago. I'm very, very sad. Loved this guy." And we're all very, very touched by this touching glimpse into the world of Hollywood friendships. Farewell, Matthew Perry, you'll always be our favorite funny guy!